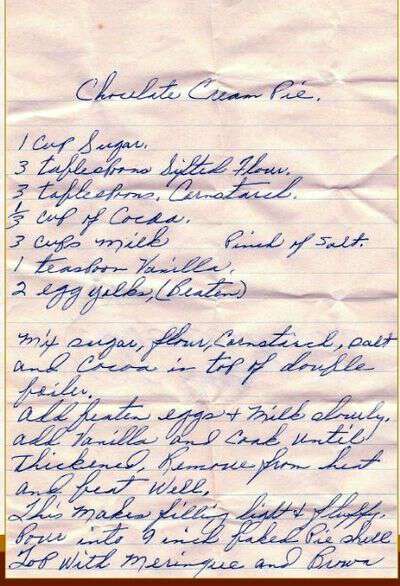 After my flop pie-I decided when I thawed up one of the frozen easy peasy no fail pie crusts-I better use a pie recipe that I knew would turn out great. The perfect recipe came to mind-Aunt Faye's Chocolate Cream Pie.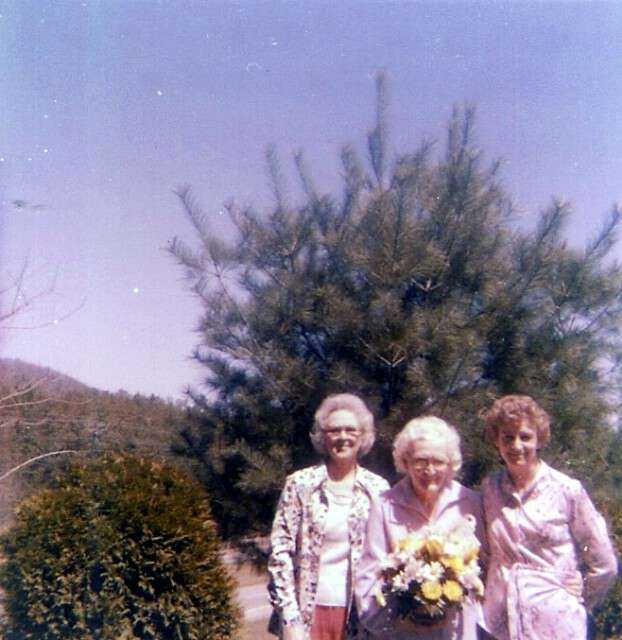 Aunt Faye, Granny Gazzie, and Granny
Aunt Faye was Granny's oldest sister. She was the second born child of Gazzie and Charlie Jenkins-and she was their first child to live. Faye married Woodrow Rogers.
Faye and Woodrow were fixtures at Granny Gazzie's house. They lived nearby, but as Granny Gazzie got older they stayed with her more and more, pretty much anytime we ever visited Granny Gazzie they were there.
Granny's father (Granny Gazzie's husband) died when she was pregnant with me so in my lifetime there was never a grandfather on the Jenkins side of my family. Well I should say there was never a grandfather in the strictest sense of the word, but there was a grandfather and it was Woodrow.
Since he and Aunt Faye stayed with Granny Gazzie I always thought of them as grandparents too. Woodrow was like the Papaw and Aunt Faye was like a slightly younger Granny Gazzie in my mind.
Aunt Faye always met us at the door with a hug, a smile, and a "How are you doll?" I loved her for her caring manner which she always wore no matter what.
I remember being shocked when she died suddenly. Sunday (June 2nd) made 24 years since she passed away.
The week before she died, me and Granny went out to visit a thing I did less and less often once I became a teenager. Granny convinced me to go with her out to Granny Gazzie's on a weekday, I'm positive I drug my feet and went on about all the important teenage things I needed to do, but like always I enjoyed the trip once I got there.
As I sat in a chair and listened to them visit, Aunt Faye brought me a poem she'd cut out of the back of a local tv circular that used to come in the mail. She told me she really liked the poem and thought I would too. I still have the poem tucked away.
I've heard Pap say on more than one occasion "Faye Rogers was a mighty fine woman," that pretty much sums up all you need to know about Aunt Faye other than she was a fantastic cook too.
Many of Granny's hand written recipes say "Faye's" at the top of the card. Today I'll share her Chocolate Cream Pie and maybe someday I'll share some of her other recipes with you.
Aunt Faye's Chocolate Cream Pie
1 cup of sugar
3 tablespoons sifted flour (plain)
3 tablespoons cornstarch
1/3 cup cocoa
3 cups milk
pinch of salt
1 teaspoon vanilla
2 egg yolks beaten (reserve egg whites for meringue-for really thick meringue you'll need additional egg whites)
1 prebaked pie crust
First I pulled one of my frozen easy peasy no fail pie crusts out of the freezer and let it thaw about 20 minutes. I rolled it out; placed it carefully in a pie pan; and pricked it with holes to keep the shell from rising while it baked. I even took the extra step of lining the pie shell with a piece of parchment paper and tossing in a couple handfuls of dried beans to hold the crust in place while it baked. I wanted this pie crust to turn out perfect.
I baked the pie shell at 475 degrees until it was light golden brown-about 8-10 minutes. I set the pie crust out of the way to cool while I made the pie.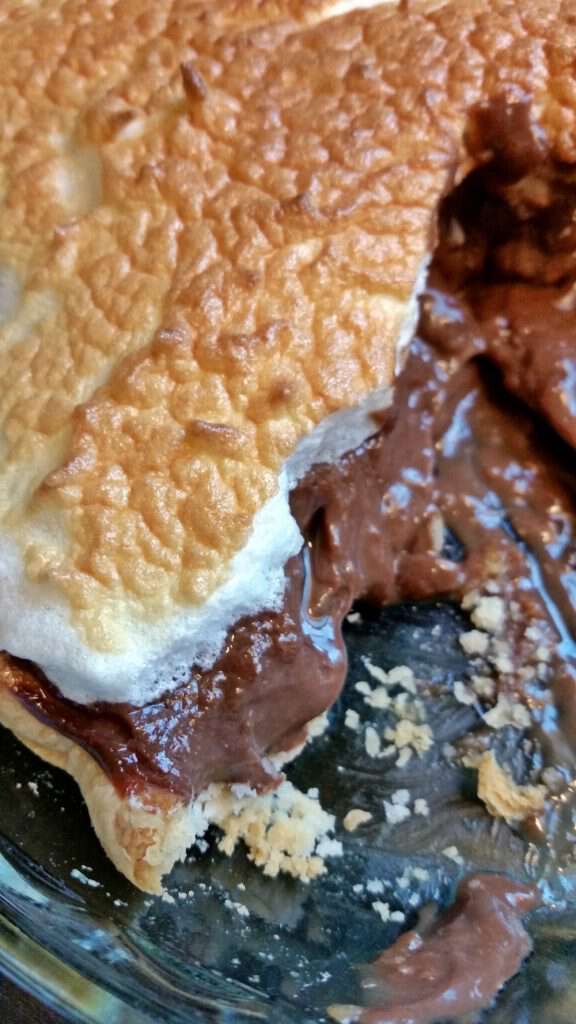 Mix sugar, flour, cornstarch, salt and cocoa in the top of a double boiler. (I don't have a double boiler-nor a bowl big enough to use as one for this recipe so I just made the cream mixture in a large pot watching it carefully to keep it from scorching)
Add beaten eggs and milk slowly. Add vanilla.
Cook, stirring often, until the mixture has thickened. Remove from the heat and beat well. Aunt Faye said beating the mixture made the pie filling light and fluffy. Pour mixture into a prebaked 9 inch pie shell.
Use the 2 reserved egg whites to make meringue for the topping and brown it in the oven. Or you could whip up a batch of whipped cream and serve the pie with a dollop of it. If you want the thick wavy meringue you'll need to add additional egg whites.
In case you're wondering the frozen pie crust was outstanding and Aunt Faye's Chocolate Cream Pie was so good it was gone before the day was out.
Tipper