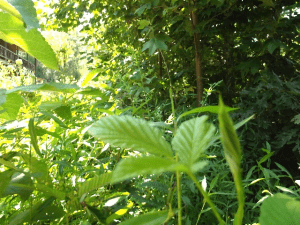 Late summer days make me long for the first heavy frost. Not because I'm hot-but because I want all the green to be pushed back. By mid August I feel smothered by the overgrown bushes, trees, flowers, vegetables, and WEEDS. By mid August I'm so tired of working in the garden- so tired of putting up food- that I want Old Man Winter to come around with his frosty breath and do the work of pushing the green jungle that has sprung up around my house back for me.
Even though I don't enjoy Appalachia's landscape of late summer as much as I do other seasons, there is something magical and haunting about it.
I look at overgrown fields; at the chest high bushes and brambles along the edge of the woods and I wonder what hides within. I tell myself surely rabbits, birds, and maybe a groundhog or two hide in the weeds which reach higher than my extended arms; yet my imagination tells me other things hide there as well.
Tipper
Appalachia Through My Eyes – A series of photographs from my life in Southern Appalachia.