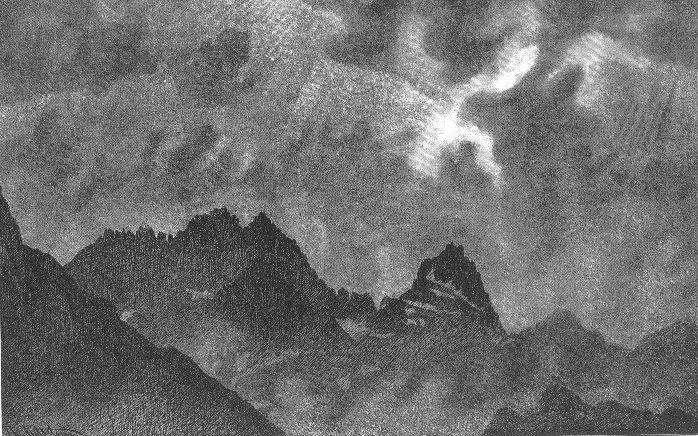 By Theodor Kittelsen (1857 – 1914) (Fra Lofoten 1891) [Public domain], via Wikimedia Commons
Excerpt from More Than Moonshine written by Sidney Saylor Farr
"In addition to drying and canning apples, Father also made sulfured apples; I shall always remember the first year he did them. It had been a sticky hot day in August with clouds that moved sluggishly and looked like great wads of used chewing gum. Father brought in some barrels and boxes of sulfur from the store. Mother, my sister Della Mae, and I were set to peeling and cutting the apples for him. Father put the barrels in the smokehouse which was empty at that time of the year. The smell of burning sulfur drifted out and the evening air carried it all through the house and yard.

Along about dusky-dark a bad storm came up, with lightning and rolling thunder bouncing from the mountain tops. The storm struck the orchard. Some apple trees were uprooted, others had limbs broken off, and apples, even green ones, blanketed the ground under the remaining trees. We went to bed with the smell of the rain-wet earth and the sulfur from the smokehouse still around us.

Later in the night Father called us from the front porch and we all tumbled out of bed. I thought that daylight had come until I saw how strange it looked outside. Lights-first yellow then blue and red, moved over the hills. Father said it might be the end of the world and Mother leaned against the porch railing praying out loud. After awhile the lights died down and it was dark again. I learned that the strange phenomenon was called the aurora borealis, but people on Stoney Fork spoke of the "Northern Lights" for years. That was the only time I ever saw the aurora borealis in our part of the country. The thunder and lightning, the smell of the sulfured apples, followed by the unearthly lights, all made an impression that will always linger in the recesses of my mind."
—-
I first read Farr's account of the aurora borealis several years ago. The story stuck with me. Thinking of the family working together through the stifling heat to provide food for themselves, enduring the raging storm, and then experiencing an unearthly event that frightened them into thinking the end of time had come really struck a chord with me.
I've heard folks talk about the end of time ever since I can remember. Just last week a lady about my age told The Deer Hunter she thought the eclipse might be the the end of time and if it was, it was okay by her!
Although the end of time talk and the praying aloud are certainly part of my upbringing and familiar to me, I believe the picture Farr drew with her words of a close knit family is why I'm so drawn to the piece. I was beyond blessed to grow up in a loving close knit family that shared almost every experience together whether it be frighting, mundane, or wondrous and I've tried my dead level best to provide the same sort of home for my daughters.
Tipper