Today's guest post was written by Ed Ammons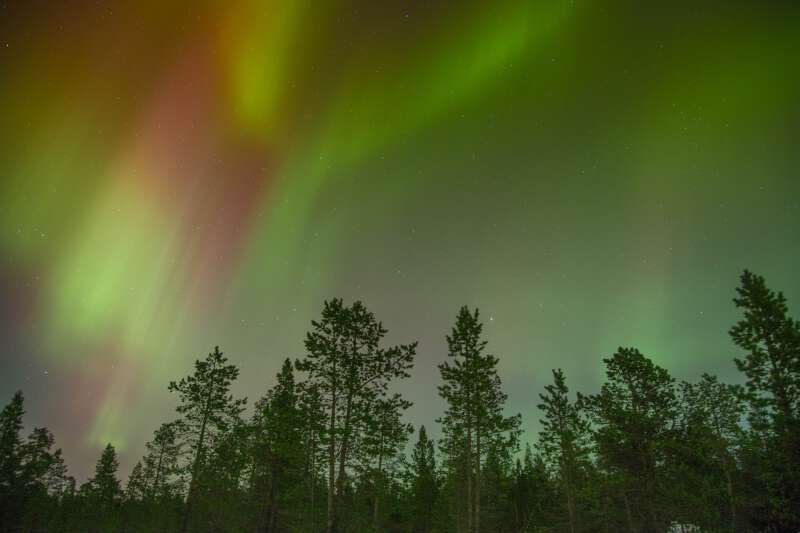 Photo by Nelly Volkovich on Unsplash
I remember seeing what we thought were the "Northern Lights" from Wiggins Creek. They looked like waves of colors going across the sky. At the time we didn't know that the aurora borealis couldn't be seen that far south (or so said the teachers in school.) So we assumed we were seeing lights from a city to the north of us. The nearest city in that direction would have been Knoxville. Of course you have Gatlinburg and Pigeon Forge now but they were only villages at that time.
I remember seeing these lights in the northern sky several times. It happened only on clear, cold, moonless, winter nights. Brother Harold speculated that the lights were coming from experiments at Oak Ridge National Laboratory which was in the same general direction. This was during the height of the Cold War and we were sure that the Russians were bound to blow up Fontana Dam and Oak Ridge at any time.
Further study reveals that the Northern Lights are visible at times as far south as the 35th parallel.
You'll have to stay up until around midnight to get the best chance of seeing the lights. February and March are the best months according to NOAA.
One other incident I remember was when I saw one cloud around midnight in an otherwise cloudless, moonless sky. It was roughly the shape of a football but had no definite borders. In other words it appeared fuzzy. Ordinarily you can't see clouds under those conditions, but this one appeared to have a glow. A pinkish glow! Kinda like the red clouds at sunset but the sun had been down for hours. Like pink cotton candy. The cloud first appeared in the northeastern sky and drifted slowly southeast over the course of about 30 minutes until it disappeared over the ridge toward Licklog. Once again I got Harold up to watch. Once again we attributed it to an accidental release of radioactive gas from Oak Ridge. This manifestation only happened once to my knowledge and has never had a viable explanation.
My mother talked about seeing a ball of fire with a long tail moving across the sky when she was a child. She was born in 1924 so I assume she was talking about the late 1920s or early 1930s. I asked her if it flashed across the sky like a meteor or lasted for days like a comet. She said it was neither. It moved slowly across the sky and looked like it was something on fire. It was visible for quite a while and other people in the community saw it as well. She said it didn't look like an airplane on fire and was still burning when it went out of sight. According to her some observers speculated that it was a sign of the end of time. I never asked but I assume this object was visible in the daytime. I also don't remember asking her where she was when she saw it but it was probably over in the Long Branch area because that is where she was born and lived when she was little.
—-
I hope you enjoyed Ed's memories as much as I did! On Monday a whole lot of folks made themselves some memories. During the total solar eclipse The Deer Hunter told the girls "This will be something you'll always remember seeing. And you can remember seeing it with your Momma and Daddy."
If you have any strange sky happenings I hope you'll share them with me.