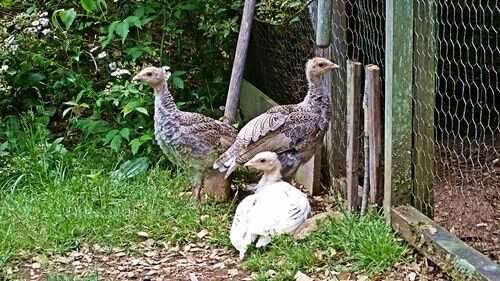 The Blind Pig Family has been adopted by some wild turkey poults. About two weeks ago the girls were leaving for the day when they suddenly came back in the house saying there was some strange birds in the yard. After we went looked at the birds we figured they'd head back off to their mother and we went back inside. A few hours later they had migrated to the backyard where they've pretty much stayed ever since.
There were four birds, but a day or so after we first seen them one disappeared. The Deer Hunter said one evening he watched them all roost, but one just couldn't make it up to the tree. I guess that's the one that got gone.
The funny things about the birds is they seem to wish they were chickens. They hang around the chicken lot and even managed to get into the run through a hole one day. The little rats also got in my greenhouse and when they couldn't figure out how to get out did some major damage to our tomato plants by flailing around like crazy turkeys.
Everyone has joked about our Thanksgiving turkey showing up really early, but since the girls have now named the trio I don't think any of them will be on the carving block come November if they're still hanging around.
Tipper
p.s. Since I wrote this post a few days back the white turkey has disappeared so now we're down to two.
Subscribe for FREE and get a daily dose of Appalachia in your inbox