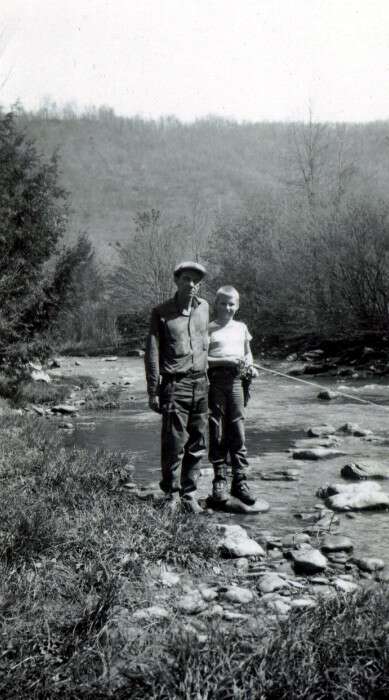 Photo of Bob Weekley and his father fishing in West Virginia 
—————————-
Of Catfish And A Smelly Old Codger written by Jim Casada
Of all the many and varied characters it was my privilege to know as a boy growing up in Bryson City, I reckon Al Dorsey had to be the most interesting. Over the years I have written about him on a number of occasions, and the better part of two decades ago a piece I did with the same title used here won a national award. His was a decidedly offbeat
personality, and as we shall soon see he had a sordid past. Yet to me, and a bunch of other youngsters who were sort of river rats in training while growing up along the Tuckasegee River in the 1950s, old Al was a man of almost heroic stature. After all, he was a wizard when it came to catching catfish, and in my adoring view that made him someone truly special.
The details of Al's life are intriguing. He was born about as close as anyone from Swain County could ever come to having a silver spoon in his mouth; his parents were affluent pillars of the community. As a young man he garnered a reputation of being what old-timers used to describe as a "rounder." Interestingly, the term is not found in that wonderful source, the "Dictionary of Smoky Mountain English," but I heard it regularly as a youngster. Probably as good a definition for rounder as any would be hellion.
Dorsey's wild ways eventually led to a tragic event. He killed another man in a shootout on the town square in an argument over a woman. I have heard various accounts of what happened (my father was a young man when it occurred and was one of the first on the
scene), but a local jury convicted him of murder. Following his conviction, Dorsey spent many years in the state penitentiary.
My acquaintance with him came long after all of that, when he had been released from prison and was back in Bryson City. He lived in a decrepit two-story house which had once been a mansion. It featured all sorts of fancy woodwork, cupolas at each corner, and a beautiful setting, but through years of neglect the house, which sat sort of catty-corner across the street from the Presbyterian Church in downtown Bryson City, had fallen into depressing disrepair. The house had belonged to his parents and surely would have been a showplace in its heyday. Since it lay not more than a couple of hundred yards down the hill from my parents' home, I walked by it every time I went to town or school.
It was during a series of summers, however, from the time I was 10 or 11 well on into my teens, that I really spent time around old Al. Throughout every summer he fished the nearby waters of the Tuckasegee. He fished with a passion, never missing a day and often carrying on the quest for catfish well into the night.
He fished at night from the bridge, but during the day he ran trot lines, did a lot of pole watching on the bank, and also made his way up and down the river from a spot located about halfway between today's two bridges (there was only the one on Everett Street then) to just below Devil's Dip at Bryson Island in a flat-bottomed boat he had built. He was a master at poling that boat, standing up and never at a loss for balance.
Old Al was incredibly dirty. He was a stranger to soap and water, wore brogans without socks (you could literally see the dirt caked around his ankles), dressed in overalls that were stiff with catfish slime and never got washed, and smelled every bit as strong as the stink baits he used to catch his bewhiskered river prey. You didn't want to be downwind of him in overly close proximity, but to a boy his knowledge of the river had a mysterious, magical quality about it that seemed almost Mark Twain-like.
Smell and shabby appearance notwithstanding, to Al's considerable and enduring credit, he kept an eye on a number of boys who, like me, spent a lot of time fishing and piddling around at the river. Similarly, he readily shared his knowledge of how to catch catfish, and it was an aspect of sport at which he was a master.
He caught them a bunch of ways—trot lines, throw lines, limb lines, jug fishing and more– but the approach which I thought most unusual involved simple bank fishing. Al would set a bunch of cane poles—inexpensive rigs using black nylon line, a hook and sinker, and bait such as chicken entrails, beef liver, or shrimp. Somehow he knew, almost as soon as he set the hook on a fish, if it was a big one.
On such occasions he would throw the buoyant cane pole into the river, scramble into his flat-bottomed boat, and follow the pole about the river. Periodically it would surface and he would ease up to it, pull on it a bit to set the catfish off, and follow once more. At some point, when he considered the catfish sufficiently worn out, he would boat it. Not every catfish handled this way ended up on a stringer, but most of them did. He would take them home with him and had a special wire cage in Toot Hollow Branch, right next to his home, where he placed them. He would feed the fish two or three weeks, much like folks used to feed 'possums to clean them out. Al then sold the catfish.
Everyone in town knew him, and when I was 12 or 13 he accomplished something which was the talk of local barber shops and the gang at Loafer's Glory (as a bunch of benches on the town square was known) for weeks. One night while fishing off the Everett Street Bridge he hooked a mighty catfish on the only decent rig he owned, a steel rod-and-reel outfit. An epic battle ensued, with scores of people lining the sidewalk on the bridge to watch it unfold. After the better part of a half hour Al managed to ease the fish close to shore and then, carefully working the rod around a series of street lights which set atop the bridge railing, he made his way down the bank next to Conley's Drug Store at the south end of the bridge. He then waded into the river, ran his arm through the mouth of the catfish, and wrestled it out onto the bank. It weighed right at 50 pounds.
I never knew about old Al's criminal past until long after I was grown, although I always thought it a bit strange when Mom and Dad would say: "You really don't need to be hanging around that dirty old fellow." I pretty much ignored them and clearly they realized he was innocuous. Otherwise their strictures would have gone beyond mere verbal "keep away" warnings. It was only by accident, when browsing through a bunch of 50-year-old newspapers long when I was in my late 30s or 40s, that I read the headlines of his trial and conviction.
Decades after I was grown and gone from Bryson City some brightness came into Al's life. By this time the once glorious house built by his parents had been demolished, and he had been reduced to living in what was little more than a shack thrown together out of rough lumber. Then through the efforts of a local minister he got religion and cleaned up not only in terms of behavior but bodily as well. In fact I have a photo of him from this time in his life, and he's dressed in almost snappy fashion—a far cry from the bewhiskered, downright dirty curmudgeon I had known. He took to regularly attending services at the First Baptist Church, and some longtime members of that congregation still remember him. He was a character indeed, and never mind that he didn't amount to much and had a troubled life, my memories of him and the place he had in my boyhood are fond ones. Fishing linked us in a special way.
—————————-
I hope you enjoyed Jim's post as much as I did! Jim's memories of Al Dorsey made me think of the characters I've known here in Brasstown. 2 walked or caught a ride to reach all their destinations, the other that came quickly to mind rode a horse.
Was there a character from your childhood days you look back on fondly?
Tipper