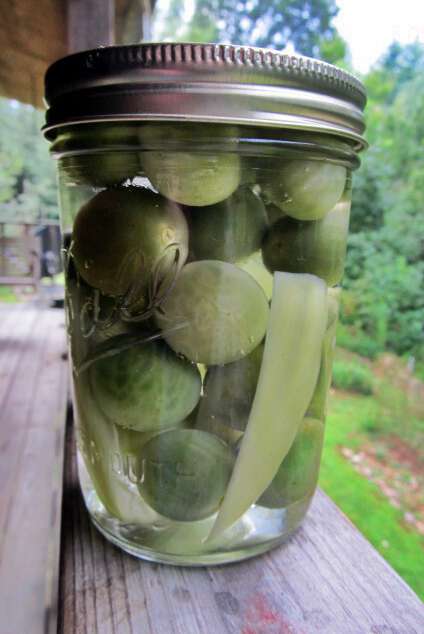 Every year Frankie Chastain's family gathers at the Martins Creek Community Center for a day of green tomato pickle making. The annual event is headed up by one of Frankie's sons Gerald.
I've eaten green tomato pickles before and never really cared for them, until a few years ago I was at a party and someone was passing around a jar. Not wanting to be rude I took one to eat. It was really good! I asked the gentleman for the recipe and he said he'd been invited to the Chastain pickle day the year before and that's where he learned how to make them.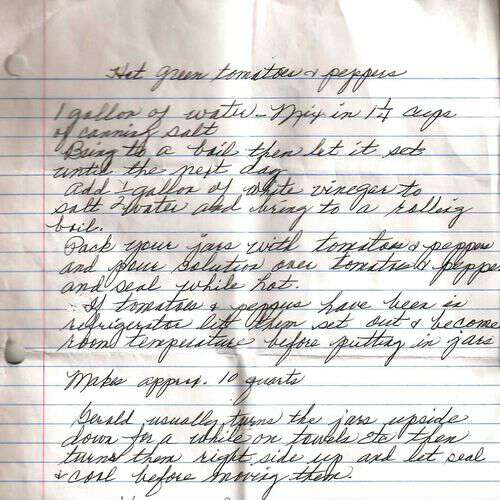 Earlier this summer I remembered the green tomato pickles and sent word to Frankie that I'd love to have her recipe. In true Frankie Chastain fashion she set right down and wrote down the directions for me and sent them by Pap.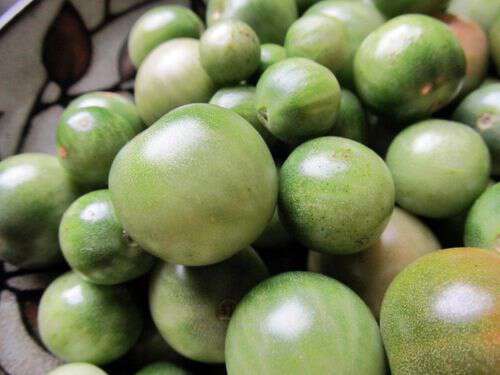 Small whole green tomatoes are the key to making good green tomato pickles according to the folks who join in on the Chastain Pickle Making Day. Using the whole tomato helps ensure their crispness. Her directions also said to use hot peppers but since I only had banana peppers on hand I used them. Actually I planted banana peppers that I grew from seed but the day I made the pickles the peppers I cut up left my hands burning for the rest of the day so I don't know what happened there-maybe I did use hot peppers in my pickles even thought I didn't mean too.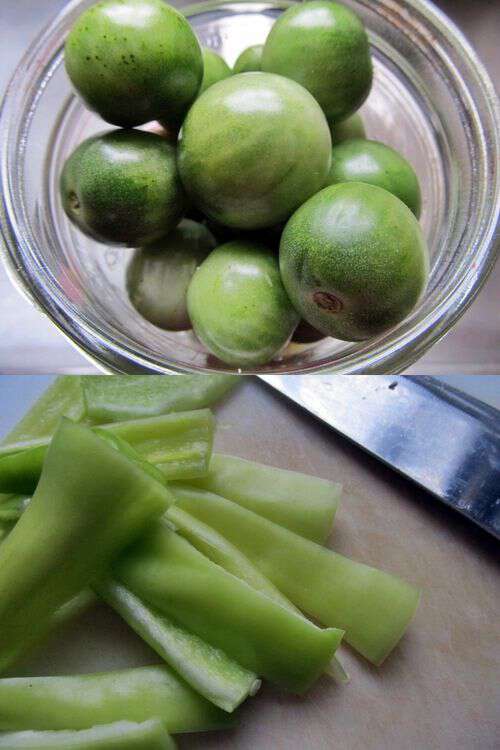 Frankie Chastain's Hot Green Tomato and Pepper Pickles
1 gallon water
1 1/4 cup canning salt
1/2 gallon white vinegar
small green tomatoes (if tomatoes are cold allow them to come to room temperature before making pickles)
peppers hot or sweet or both (if peppers are cold allow them to come to room temperature before making pickles)
Bring to boil 1 gallon of water and 1 1/4 cup canning salt. Allow to sit overnight.
Add 1/2 gallon white vinegar to salt water and bring to a boil.
Pack tomatoes and peppers in sterilized jars.
Pour solution over tomatoes in jars while hot and seal.
Frankie says "Gerald usually turns the jars upside down for a while on towels then turns them right side up and let seal and cool before moving them."
If you don't feel comfortable using the open kettle method of canning, water bath jars for 5 minutes.
Allow jars to sit for at least a month if not longer before opening-in other words give the pickles time to actually pickle.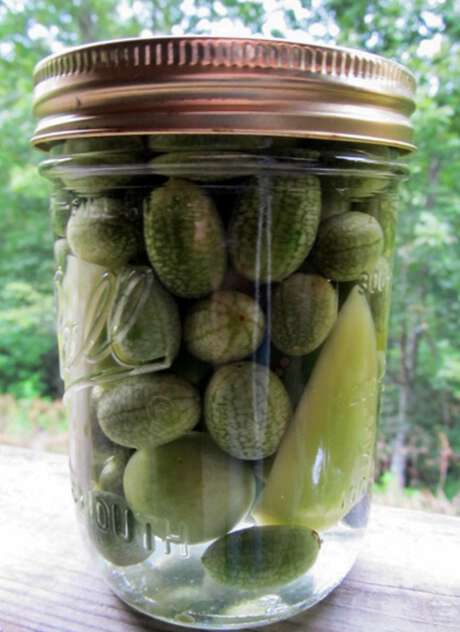 Frankie's recipe said it made approximately 10 quarts. I had some pickling solution left over so I decided to use some of my Mexican Sour Gherkin Sow True Seed tiny cucumbers in place of the tomatoes just to see how they turned out. Frankie's sister-n-law Mary Alice told me this recipe is perfect to use for Pickled Okra too.
Tipper