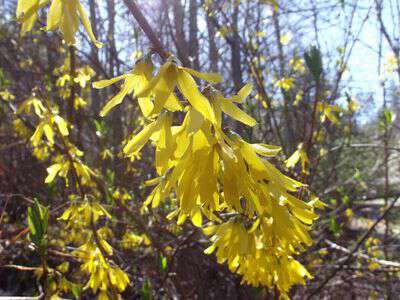 As I drive to and fro it seems yellow bells dot the landscape no matter which way I look. Why even looking out my kitchen window gives me a peek of their bright nodding blossoms.
Forsythia-or yellow bells as its commonly called around here thrives in our mountains. I always thought of it as an old fashioned flower-I suppose because both my Grandmother's had it growing in their yards.
Back in the day when we first moved into our house and I was looking for things to plant in our barren red clay yard, Granny showed me how to plant yellow bells. She said "Come Spring of the year we'll get you some cuttings from my forsythia bushes, all you have to do is stick them in the ground and they'll live." It wasn't that I didn't believe Granny-but it seemed impossible that all I had to do was cut a piece off and stick it in my red clay dirt and I'd have my own yellow bell bush.
But that's exactly what me and Granny did-and 16 years later my yellow bells are still alive and welcoming Spring.
Over the last 2 years, Don Casada, has pointed out forsythia bushes way back in the mountains to me. Yellow bells growing where people have long since stopped living.
Each Spring when those yellow bells off the beaten path bloom-I believe the bright yellow blooms carry forth part of the beauty from the caring hands which planted them so many years ago.
Is it Yellow Bells or Forsythia where you live?
Tipper
Appalachia Through My Eyes – A series of photographs from my life in Southern Appalachia.