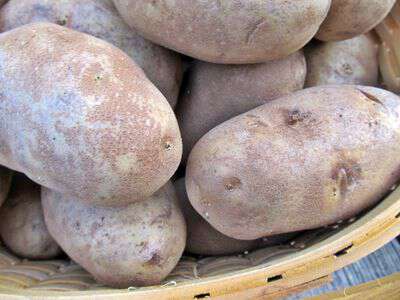 Irish potato noun
A variant forms arsh potato, arsh tater 
B The common white potato (with Irish added to distinguish it from a sweet potato).
1939 Hall Coll. Roaring Fork TN This was a good country for arsh potatoes…They'd take the potatoes to Knoxville, two hundred bushels from one acre. (E. L. Reagan) 1942 Hall Phonetics 44 = the common white potato. 1991 Haynes Haywood Home 77 Jut would say… Arsh taters (Irish potatoes) and other idioms common to uneducated mountain people.
Dictionary of Smoky Mountain English
——————
I know all about arsh potatoes because I grew up eating them. Granny even taught me to make an Arsh Potato Cake-my all time favorite cake!
I take great exception to the last part of the definition. I mean, seems pretty smart to differentiate between arsh potatoes and sweet potatoes to me. But since I've never read the book maybe the quote isn't quite what it sounds like.
How about you: arsh poatoes, white potatoes, sweet potatoes, or just taters?
Tipper