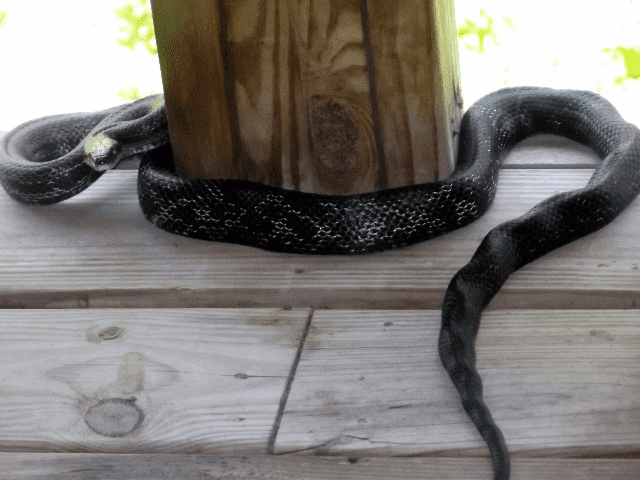 Last weekend Miss Cindy got to visit-we always enjoy her visits! As she was leaving on Sunday afternoon, she found a snake on our front porch. We all ran out to see it-by then it had wedged itself between the stair runner and the wall. I said I bet it's after the baby birds. The Deer Hunter said it's just a King Snake leave it alone. Miss Cindy went on her way and we all went back the house.
A few hours later Chitter discovered the snake was indeed after the baby birds. A few sprays from the water hose sent the snake off the porch into the yard.
I couldn't resist telling the girls- "You better watch it-it might be a hoop snake or a black racer."
As long as I can remember I've heard stories about hoop snakes. The gist of every story is a black snake loops itself into a hoop and then goes rolling after whoever disturbed it. Some versions claim hoop snakes have stingers on their tails to sting you.
Stories about joint snakes are not as common, but supposedly a joint snake can break itself into pieces and then put itself back together again.
Stories about black racers always made me think of a field of tall lush green grass with a jet black snake slithering through it at break neck speed.
Tipper
p.s. Break neck speed: is that a phrase you ever use?
Appalachia Through My Eyes – A series of photographs from my life in Southern Appalachia.