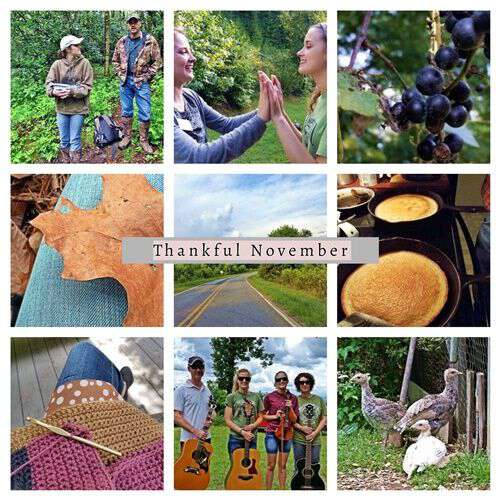 During the month of November I host a variety of giveaways as a way of saying THANK YOU to Blind Pig and The Acorn readers. If you didn't know it, you're the best blog readers in the whole wide world!
Today's giveaway is a used copy of Florence Cope Bush's  book "Dorie Woman of the Mountains." To be entered simply leave a comment on this post. *Giveaway ends Friday November 16.
The winner of the Fred Chappell book is Don T who said: "Morning tipper. Just came in from my deer stand to warm up. 38 degrees and windy up here in the Shenandoah Valley this morning. I've never read any of Fred Chappell but intend to soon. Thanks not only for the offer but also for this and the several other good reads you've offered or mentioned in the past. I've never won any of your offerings but usually go right to Google and check them out and usually end up ordering one from somewhere. So thanks much for the references and also for all you do. Along with a couple devotions the email linking me to your daily post is something I look forward to each day ."
Don T please email me your mailing address at [email protected] and I'll get the book to you!
Below is a post I wrote back in 2015 about "Dorie Woman of The Mountains."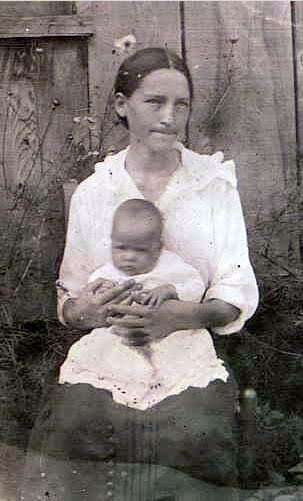 Photo of Dorie and Wilma courtesy of Ed Ammons
"Dancing was looked upon as a device of the devil by most mountain folks, but not Ma. She loved to dance. She'd lift her long skirt above her ankles and dance a dazzling Carolina clog. Her feet moved so fast it was hard to see them. Grabbing Luther, Lola, or me, she'd dance around the room until we were out of breath. "Do-si-do and here we go," she'd laugh as we whirled. All too soon, our fun was over and it was back to worktime for her. I never saw Ma sit still very long. Her energy kept her from relaxing in the rocking chair beside the fire. If she sat down at all, her hands were busy mending or crocheting."
Dorie: Woman of the Mountain pg 62 (1907-1912)
—————
"Fred's family were frequent visitors, happy to have him near them again. I still didn't feel comfortable around them. Maybe it was my own fault that we didn't understand each other better. I was always quiet and reserved, in complete contrast to their boisterous, laughing manner. Mountain people didn't say anything if they were not sure what to say. So, usually I said nothing. I always remembered a quote from Abraham Lincoln who said, "It's better to keep your mouth shut and let people wonder if you're a fool than to speak and prove you are."
Dorie: Woman of the Mountain pg 148 (1917-1924)
—————
"The Tremont Hotel was situated across the railroad, embedded into the side of the mountain. The front porch was placed so the visitors had the best possible view of the river and the mountains. The Tremont settlement, with its boxcar, portable housing, and work sheds was out of visual range of the hotel guests.
Settlement people knew the hotel was off limits to them. But that was all right. Mountaineers wouldn't go anyplace they didn't feel welcome. They understood that the rich were different. That was a part of life they couldn't change. By now, most were aware of the differences between the two classes. Many of them had lived near the Wonderland Hotel in Elkmont where the same system worked. The Wonderland was a place to wonder about and view with some envy, as the ladies from Knoxville and other far away cities sat on the front porch in their finery and daintily fanned the gnats and flies away from their perfumed, painted faces.
The rumors and stories of what went on in the hotels kept the natives entertained. Some thought of them as the Sodom and Gomorrah of the mountains. A few local girls were employed as maids at both hotels. Pretty, young daughters were warned to stay away from the places.
Dorie: Woman of the Mountain pg 199 (1924-1937)
—————
I hope you've enjoyed each of the excerpts I've shared from the book Dorie: Woman of the Mountains, as well as my thoughts surrounding those excerpts. It's been almost two years since I read the book. From the first page I loved Dorie and was fascinated by the life she led. The stories from her life often wonder around in my head as I go about my way.
The book captures a true picture of the people from the Southern Highlands of Appalachia from that time period, and in certain aspects, from today as well.
"Mountain people didn't say anything if they were not sure what to say." and "Mountaineers wouldn't go anyplace they didn't feel welcome." Are attributes that are still common to Appalachians today.
I commonly see people show a stoicism about their lot in life just like Dorie noted in this line: "They understood that the rich were different. That was a part of life they couldn't change."
I feel a true kinship to Dorie. I wouldn't compare myself nor my life to the hardships she endured, yet her thoughts about the world and her people feel right at home in my mind and in my heart where I look at the world in much the same manner as she did.
The entire time I was reading the book I kept thinking "Now these people are like my people. They're the same as us." As the pages drew thinner and I neared the back of the book, I didn't want it to end. I wanted to keep reading about Dorie, I wanted to see where life took her and her people. Little did I know there was a surprise waiting for me at the end.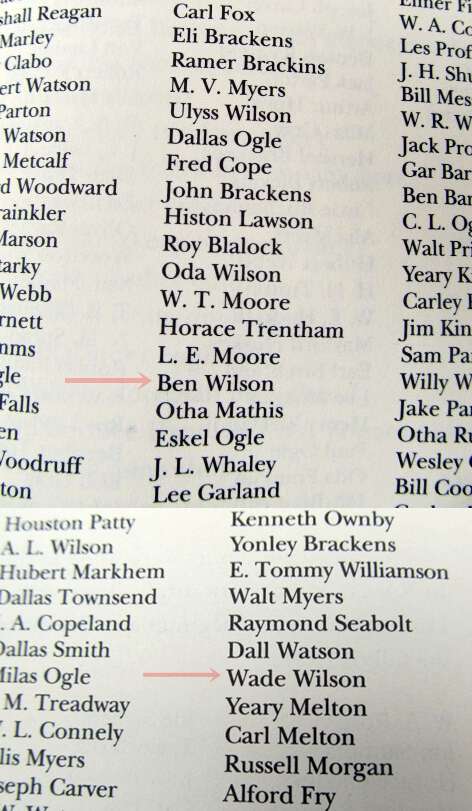 Appendix 1

The following names were listed in the time books belonging to Robert Vance Woodruff. They worked with the Little River Lumber Company beginning in the spring of 1923 and ending in the fall of 1934.
When I reached the appendix page at the end of the book and began reading the names of the various employees who worked for the Little River Company during that time period, I thought "Hey wouldn't it be cool if I actually recognized someone's name?"
On the second column of the first page there was Ben Wilson. "Hmph." I thought. "Maybe that was Pap's Grandpa. (Pap's grandfather was named Benjamin Wilson)
I flipped the page and continued to read the names. Second page third column-there was Wade Wilson. I thought "What!!!??? Could it really be Papaw Wade?"
I couldn't wait to ask Pap if he thought the Ben Wilson and Wade Wilson listed in the book could belong to us. Pap said "Well I'm not for sure, but I know they both did lots of logging between here and Madison County so its certainly possible that it was them especially since both their names were listed."
Was it really my Papaw and my Great Grandfather in the list of names? Is that why I felt such a kinship to Dorie and her people? As Pap said "I don't know for sure." And really, I don't need to know for sure. I already know Dorie and her family were my people-we share a common landscape, a common dialect, a common way of looking at and living in this world.
—-
Be on the lookout for more Thankful November giveaways.
Tipper
Subscribe for FREE and get a daily dose of Appalachia in your inbox