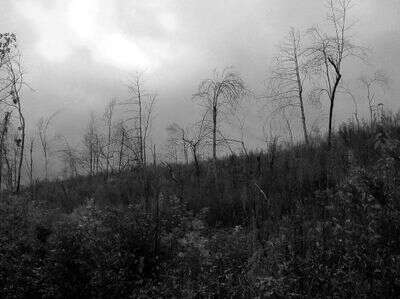 Numerous studies are available about fatalism in Appalachia. A few I've read, indicate the first Scots-Irish settlers of Appalachia brought their fatalistic outlook with them, then passed it on to future generations. Others infer the sometimes dim outlook of Appalachians is directly related to their isolated lives and the difficult circumstances surrounding them. I personally believe, it's a little bit of both.
It is hard to reconcile fatalism with the hard working, life loving people of my heritage. And I've truly questioned whether it is a true Appalachian trait or not. I'm certainly not a scholar on Appalachia or anything else for that matter. I can only make a judgment from my experiences and what I've witnessed during my life in Appalachia.
All of which lead me to believe fatalism is a trait of native Appalachians. I do not believe folks are running around looking for a cliff to jump off-but more of a "work while you can, cause a day is coming when no man shall be able to work" way of thinking.
I once shared with a close friend that sometimes I question my own compassion about life-often having the attitude "what you want in life and what you get are usually 2 entirely different things." She said she didn't think it was a matter of me being cold hearted, but a mechanism of survival.
The conversation with my friend, helped me see fatalism as a precautionary way of living. In other words, don't get your hopes up to high and you won't be disappointed. One Appalachian saying that comes to mind portrays this: Lord willing and the creek don't rise. In other words-if things keep going as good as they are we just might make it. I often hear myself telling people "if nothing happens I'll be there" well what do I think is going to happen? I don't know. But I do know-you never know what life is going to throw at you next.
Today I have a special treat for the Pickin' & Grinnin' In The Kitchen Spot. A song written by Paul-one of my favorites he has written-it's right up there with Down The Escalante. I'm sure you've figured it out by now-it's a song with a fatalistic theme to it.
Hope you enjoyed all that great flat top picking-and the song.
How about you-do you think fatalism is a true trait of Appalachians or not?
Tipper