Today's guest post was written by Charline Venturini.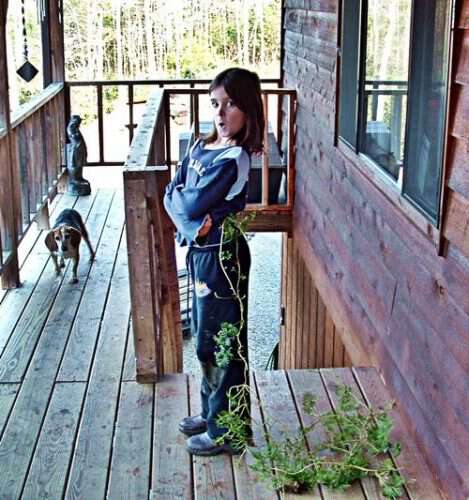 Chatter being silly – not sure if she was making herself a tail or gathering stuff for a playhouse
Happy Saturday!
1. I was recently reading a very dry history of Rowan County, North Carolina for research, published long ago in that scholastic and flowery style in which writers prided themselves. In one section, the author mentioned pre-Revolution Era schoolyard games. What caught my attention was "Chickama, Chickama Craney Crow" (he spelled it "chichama"). My Daddy (b. 1918 Ark) used to say this rhyme while any of us children were on his lap, or at bedtime:
Chickama, Chickama Craney Crow
I went to the well to wash my toe
When I got back, the old black-eyed chicken was gone-
What time is it, Old Witch?
One!
I never realized it was a game at one time, but you can easily picture kids joining hands, going in a circle, perhaps one in the middle? What were the other verses? Two, three, four? I'm sure the rhyme was taught to him by his own Daddy.
Have you ever heard this?
2. My sister-in-law quoted a song that she found herself singing to her little granddaughter (!?) and asked if my Daddy (lovingly called Papaw) wrote it. I told her no, that he probably grew up with it:
Went downtown to see my little lady
Nobody home, but kitty and baby
Kitty got drunk, and baby was sober
Kitty ran around, and knocked baby over
She asked me if I knew more verses?
~ Charline Venturini
—–
Please leave a comment if you've heard either of the nonsense rhymes Charline shared-or even one of a similar nature. I've never heard either one, but I think its fascinating that snippets of games, poetry, limericks, and riddles are passed down through the generations even when they morph a little bit on their way down.
Tipper
Subscribe for FREE and get a daily dose of Appalachia in your inbox