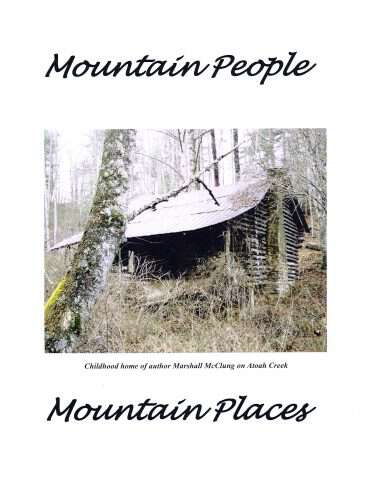 A few months ago I had the pleasure of interviewing one of my favorite writers, Marshall McClung. Marshall's writing style and choice of subject matter reminds me of John Parris, who was well known for his Roaming the Mountains newspaper column in the Asheville Citizen-Times.
Marshall McClung is a native of Graham County NC-he was born and raised in the Atoah Community. He is retired from the US Forest Service and has spent many years in service to his county by being a loyal member of the Rescue Squad.
Why do you feel it is important to write about our heritage?
Because it's fading fast. Many of the people I've interviewed are no longer with us. And when those old timers pass on their memories and stories pass on with them.
Do you find there is still a thread of our culture thriving?
A few people are interested in holding on to the old ways. Recently a senior at the high school did his exit project on the heritage of our area. I helped him with it.
Where you always interested in preserving our history and heritage?
Yes. As a child I'd be sitting or hanging around the porch to listen to the older folks talk while the other kids played.
Have you always wanted to be a writer?
No, you could say I am an accidental writer. I did write press releases for the forest service but other than that I had no experience with writing. One Christmas I came up with the idea of writing an article in dedication to a lady in the community. Helen Bridges was one of my neighbor ladies when I was growing up. She had lots of kids but always welcomed more and many times that was me. After I wrote the short article about her at Christmas the Graham Star got such a huge response to the article, that they asked me to continue writing about the heritage and history of our area.
As Marshall and I ate lunch-you could say I talked his ears off. He is a fountain of knowledge about the things I'm most interested in. He shared stories, folklore, and history about Appalachia with me. One of my favorite stories he shared from his childhood was the following:
My early childhood days were spent playing alone in the woods. All you had to do was step off our porch, and you were in the woods. All of the other children were in school, so I roamed the woods and they became my playground. I suppose this is why I have such a deep love for the woods and feel at home in them. This led to  what could be called my first experience with my guardian angel. One day I had followed our dogs deep into the woods. Suddenly, I realized I didn't know where I was or how to get back home. Everything looked the same in any direction. All at once, I could hear what I thought was my mother calling me. I followed the sound of her voice until I came to a ridge top where I could see our home. At this point, the voice immediately stopped. Joyfully, I ran into the yard where my mother was. She looked up and said "There you are. I was wondering where you had gotten off to. I was just about to start calling you."
Marshall's first book Mountain People Mountain Places is a pleasure to read-in fact I've read it more than once. The book is a collection (close to 100) of stories, folklore, and history all told from Marshall's unique perspective. Although much of the history centers on Graham County I believe Marshall's writing style makes it a good read even if you've never been to Western NC. If you'd like a book ($23.00 which includes shipping)-you can order one straight from Marshall:
Marshall McClung, 274 Wiggins Lane, Robbinsville, NC  28771, phone: 828-479-8630, email: [email protected].
I hope you enjoyed my interview with Marshall McClung. He is currently working on his second book about mountain people and places-I'll let you know when it's published.
Tipper