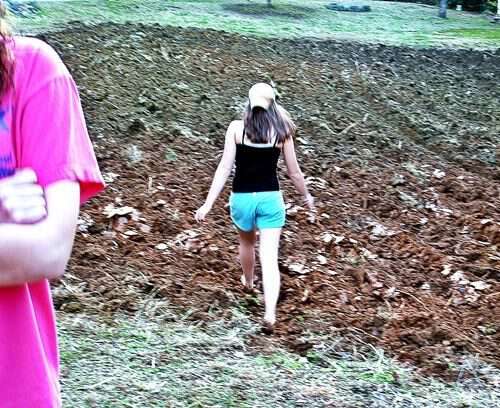 Chitter couldn't stand it as soon as the tractor pulled out of Pap's garden she had to shed her shoes and get in it. The other girl? She was mad because I told her she couldn't do the same. I wouldn't let her go barefoot in that cold turned ground in the cool evening air because I could hear Granny in my head warning me not to.
Granny is always worrying about someone taking cold-even herself. There are rules she follows like don't wash your hair if you're going to have to go outside, you should wash it after you're in for the night; remember to wear a jacket or coat with a hat or toboggan if it's windy or you might take cold; if you've been sick recently then when you do go outside you better bundle up good or you might take cold or worse yet a backset; take all precautions against getting wet in the rain or you might catch a cold.
All my life I've laughed at Ganny's dire warnings of catching cold or taking sick and now here I am telling my recently sick daughter the same thing.
Got any warnings from your Granny?
Tipper
Appalachia Through My Eyes – A series of photographs from my life in Southern Appalachia.