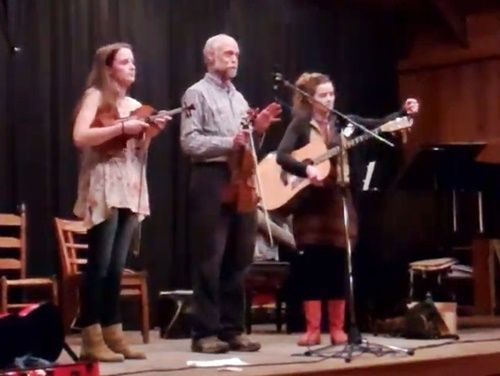 Chitter, David, and Chatter
I recently had a wonderful conversation with a mother of twins. Her twins are closer to my age than to Chatter and Chitter's. Like us, the only children she and her husband had were twin girls.
Her twins were quite the surprise because she didn't know they were twins until they were born. I knew I was carry twins at seven weeks so we had a while to let the good news sink in.
We both agreed it was truly wonderful to be the mother of twins.
I never said I wanted twins and if I'd been given a choice I would have said "No one will be just fine." But after I had the girls I couldn't imagine having a single birth. I mean they'd be all alone how would that work?
A few years back David Kaynor, who is a great friend to the Blind Pig Family, composed a fiddle tune in honor of the girls. He titled it "Twin Delights."
David has been diagnosed with ALS. The close relationship he has with Chatter and Chitter is often in my thoughts.
Last year the girls had the privilege of playing "Twin Delights" with David at the Folk School.
In a few weeks the girls are going to Massachusetts to visit David. They'll be playing a few gigs around the area. If you're interested in the details let me know.
Tipper
Subscribe for FREE and get a daily dose of Appalachia in your inbox