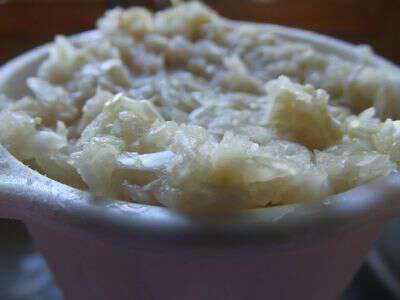 From the minute I saw Leon Patenburg's recipe for Chocolate Sauerkraut Cake I knew I had to try it. I thought it might be tasty. I already know I like cakes made with left over mashed potatoes and cakes made with tomato soup. But chocolate cake made with kraut? I had to find out for sure.
The day I made the cake, I tried to be secretive with my ingredients so I could make the rest of my bunch guess what was in the cake. But The Deer Hunter saw me bringing a jar of kraut up from the basement so I ended up telling him from the start. He said "What!? a cake with kraut?" I said "yep."
To make a Chocolate Kraut Cake you need:
2/3 cup butter
1 1/2 cup sugar
3 eggs
1 teaspoon vanilla
1/2 cup cocoa
2 1/4 cups plain flour (all purpose)
1 teaspoon baking powder
1/4 teaspoon baking soda
1/4 teaspoon salt
1 cup water
1 cup sauerkraut (rinsed and drained)
First-cream butter and sugar together.
Add eggs one at a time-mixing well after each. Add vanilla-mix well.
Sift together dry ingredients.
Alternately add the dry ingredients and the water-mixing well after each addition.
Stir in one cup of kraut that has been rinsed and drained. If your kraut is coarse in size-I would suggest chopping it to a finer consistency. Most all the kraut cooked up in the cake-but a few of my coarser pieces stuck around.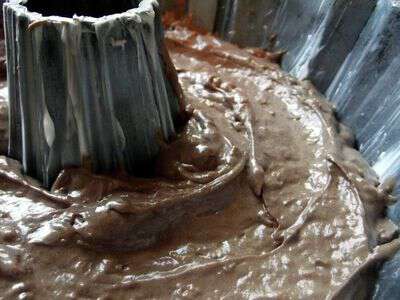 Pour mixture into a well greased/floured bundt pan-or you can do like Leon and use a dutch oven. Bake at 350 degrees for 30 to 40 minutes or till done. (it took 40 minutes in my oven)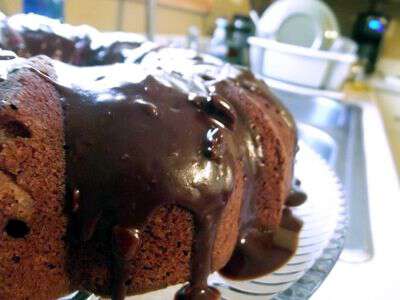 I melted some semi-sweet morsels with a bit of butter and poured it over the cake for an easy icing.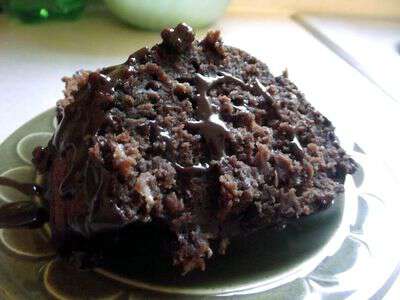 So was it good? YES! The cake is delicious. Moist, dense, and chocolaty. Its so good you really don't need an icing. Its the type of cake that goes perfectly with a cup of coffee or a glass of cold milk.
The hot new band Burnt Toast & Cracklings (Chitter, Chatter, and friends) were over for a jam session the evening I made the cake so I did get to play my game of 'can you guess whats in the cake'. It was unanimous it tasted so good they didn't care what was in it.
Ever had Chocolate Kraut Cake?
Tipper