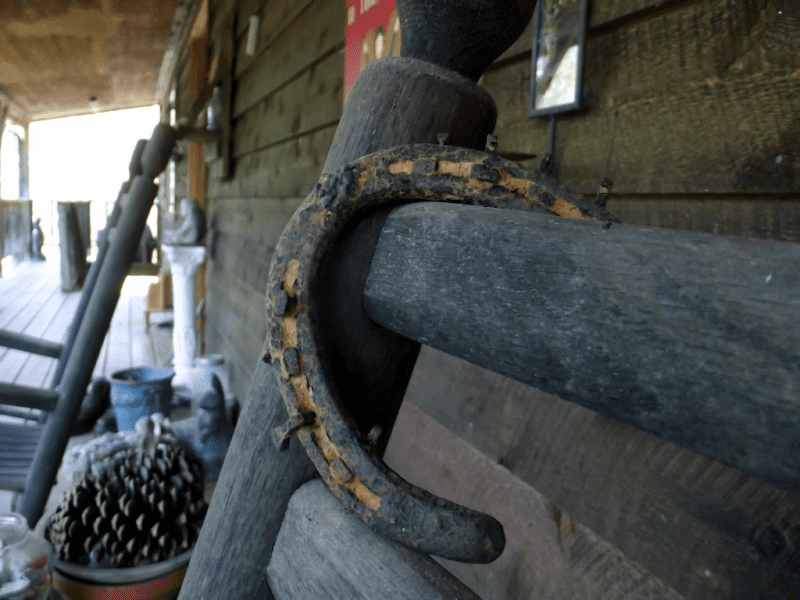 Horseshoes are lucky…at least they're supposed to be. My Granny Gazzie had horseshoes wrapped in aluminum foil above a few of her doorways. Seems like I remember at least two: one in the kitchen and one at the front door. You're supposed to hang them with the curve facing down and the two sides facing up so all that good luck doesn't just poor out.
I found the horseshoe in the photo several years ago in Pap's big garden. Pap said it probably came off his Grandpa's horse or mule. It's been hanging outside my front door.
According to Frank C. Brown's Collection of NC Folklore:
You know the old saying if the sun is shining while it's raining it means the Devil is beating his wife? I've heard that all my life,but not this part: if you lay an old horseshoe on the ground, place a white cloth over it, and put your ear to the cloth, you can hear the beating. I'm not sure I want to hear actually hear the Devil beating his wife, but hmm… is it tempting.
To ward off evil carry a horseshoe nail. (I used to have a ring made from a horseshoe nail)
Nail a horseshoe to the hog trough to protect the hogs.
While churning butter if it fails to come and gather put a horseshoe in the fire.
If you find a horseshoe hang it in a tree for good luck.
Horseshoes nailed above the door will keep conjuring spirits out.
A horseshoe can be placed in the fire to protect your sheep herd.
Place a horseshoe at the bottom of your bed to ward off evil.
Unless you have horses yourself, its not as common for folks to come in contact with horseshoes today, especially old ones. Makes me wonder how many kids would know what an aluminum foil covered horseshoe meant.
Tipper
Appalachia Through My Eyes – A series of photographs from my life in Southern Appalachia.