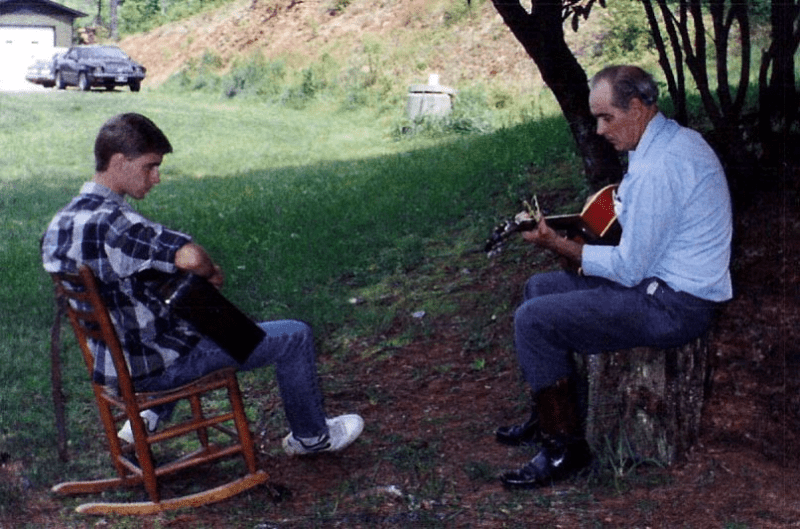 Paul and Pap
Pap's first guitar was a Kay-he shared with his brother. Pap thinks it came from a furniture store. The strings were high off the neck and so hard to push down that when you hit a chord you could hear it in the next holler. Jack and Ed Dockery, a couple of local boys from the other side of the mountain in Moccasin Creek, were Pap's first musical influence.
While Pap was in the Marines he bought his first Gibson Guitar from a fellow service man for $7.00. After a furlough home-he drove back a car he had acquired instead of taking the bus. The Gibson was lying in the back floorboard when a buddy accidentally stepped completely through the guitar.
Around the early 60's Pap drove to Asheville to make his next guitar purchase. He settled on a Martin Guitar (the one in the picture above). The salesman tried to persuade him to buy a Gibson Dove-but since it was more expensive Pap resisted and bought the Martin.
After a few months of use the neck of the Martin begin to warp. Seems Gibson held the patent on putting an iron rod in the neck of guitars for many years. When Pap returned the guitar the salesman said "I told you so". Pap made up the difference in cost and returned home with the prize of a Gibson Dove. He paid $399.00 for it. It's well worth over $3,000.00 now.
Out of the three of us kids Paul was the one who showed the greatest interest in following along Pap's musical footsteps. After he had been playing long enough for Pap to see he had a real interest and a real talent, Pap saved up the money for Paul's guitar-a Taylor. The day he bought it I wrecked my car. Lucky for Paul-Pap didn't know until he had already paid for the guitar.
Over the years Pap and his brother sang together as The Wilson Brothers. They sang gospel music in the polished high harmonies of the classic brother duet style. They performed at churches, festivals, homecomings, and benefits throughout the south. Over the years they won many awards including the 1998 North Carolina Heritage Award. They were also featured in many publications such as "The Old-Time Herald".
Tipper