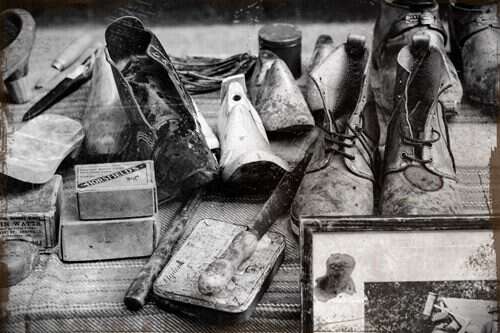 Shoes That Go Flap In The Halls, And Echo by David Templeton
My dear precious mother raised seven of us. Kept us fed good and tried her best to keep us clothed and shoed from the weathers of poorness.
Momma was an inventive and skilled clothes maker, using flour sacks when she could get them and old clothes pieces that she tore apart and sewed back together into a shirt or a blouse or a dress or a coat.
She remade britches to smaller sizes and could patch a pair of overalls to make it look like some designer's artwork and she leaned heavily on The Salvation Army's charity for used clothes, scrap rags, shoes and coats. When we were little, we had almost no underwear.
When we moved from the mountains of East Tennessee, we were bitterly poor among the other kids whose fathers had factory jobs, or bakery jobs or drove city buses in Indianapolis.
And, I remember that good shoes were the hardest things to find, especially for me, as I was then a teenager and as I got older and began to wear grown-up size shoes, finding my size at the Goodwill was hard to do. City pavements wear out shoes faster than country roads.  Also, smaller kids outgrow their shoes and pass them on before they completely wear out.  Grown-ups' can wear their shoes until they wear out, and back then they did and my feet were grown-up size.
Good used shoes in my size were not easy to come by.
Back then, shoes were made of leather, mostly.  Some had hard rubber soles, but most had leather soles.  And, all shoes were sewn together and the soles were nailed on.  The seams would split eventually and the shoe sole nail heads would wear down and the soles would come away from the uppers and the soles would flap with a resounding slap with every step taken and we would shuffle our feet along so as to not let the soles flap but we looked funny walking that way and there was no silent way to walk with worn out shoes through the school halls and we prayed for loud crowds in the hallways to mute our misery.
One time, the only pair Momma could find to fit me was a pair of brown and white wing-tips golf shoes … you know, with cleats.  And I had to pull out the cleats with wire pliers. The pair I had been wearing then had flapping soles and holes in the soles and I would cut out cardboard or pasteboard pieces shaped like insoles and put these barriers inside my shoes between my feet and the ground until they got wet and they always did. I was in high-school and my poorness hurt to the bone because the kids made fun of me and no girl would claim me, even some teachers spurned me because of my mountain tongue and my mismatched rag-tags.
Maybe it can be said to be natural for any kid to feel hurt, to feel awkward, to feel embarrassed when very poor and showing it, but I am ashamed now as I think back to how self-conscious I was in my second-hand clothes and my flapping shoes without reflecting then on what my mother was enduring in those locust years of our lives, that dark night of abject poverty for my mother where no star of hope glimmered for her, yet she kept on.  I am ashamed of my selfishness when I think of my dear mother swallowing her own pride and asking for help from the Salvation Army, for used clothes and scraps and working her fingers to the bone to repair and refit the tatters of hand-me-downs into some semblance of clothing that would get us to school and keep us clothed and warm and me complaining while she did the best she could.
And, she sometimes cried.  Maybe more than I know.  Her weeping echoes in my mind even as I see her hiding the tears.
Momma didn't choose her thriftiness to save the Earth, she made do to clothe her children; it's all she could do.
And, with her love and her industriousness we learned that being poor wasn't a disease passed on from generation to generation; we were happy and loved and we overcame the hard times.
And, we have prospered in many ways.  Beginning with her as our mother.
——————————–
I hope you enjoyed David's guest post-and if you're a Mother-I hope your Mother's Day is extra special.
Tipper