Over the past few months, I've been dwelling on the ever shrinking remnant of the the rich Appalachian Culture. Honestly-the traditions that are still held onto-are fading fast.
As I tried to think on the positive side of the issue-I begin to think of folks from my generation-folks like me who are living their lives with the same traditions their parents and their grandparents upheld. Folks who are melding the old ways into today's world and finding a balance between the two.
As I pondered these thoughts-one of those neat coinky dinks of life happened. I made a new friend-a new friend-who like me-thinks our rich Appalachian Heritage can and should be a road map to our future as well has enrich our present lives.
For today's Mountain Folk Interview-I'd like to introduce you to my new friend-Jackie Cole.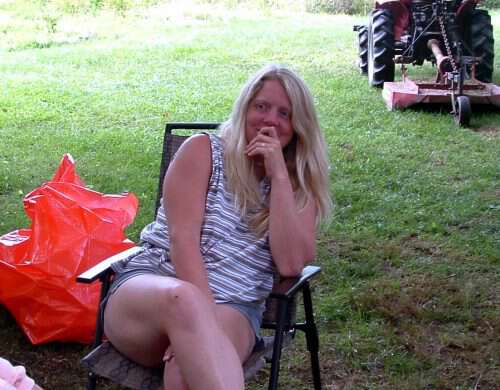 When and where were you born?
I was born in 1969 in Asheville, NC. My family moved fairly often and I lived different places. Since I've been married, I've lived in Haywood County, NC in the Canton area.
What memories stand out from your childhood?
I loved to play outside-and did any chance I got. My father was a horse trader so there were always horses around to play with. Every time my father traded for a new horse, he'd bring it home and throw me up on it. One time, he bought a mustang stallion from out west. Just like always he unloaded it and threw me up on it's back once it started crow hopping and jumping around, I got off of it as fast as I could.
Jackie, I know you are a master canner-and even teach a canning class each week during the summer months, how did you get started canning-was it as a child or after you were married?
My Mother and Grandmother canned when I was a child. I was about 8 when I first started helping them string and break beans. By the time I was 10 or 11 I was helping with the whole process of canning. I guess it's just natural I would continue the traditions I learned as a child. And after eating home canned food for most of my life, the canned items you buy at the supermarket just don't seem to have any taste.
In addition to vegetables and fruit you can meat. Is that something your Mother and Grandmother did too?
No. A lady down the road, Louise Scott, taught me to can meat. After you learn the process you realize it isn't any harder than canning anything else. I can sausage, chicken, deer, pork, and rabbit.
I know from the canning I do-preserving food takes time-why do you do it to the extent you do?
If you preserve the food you raise it helps financially. And health wise the food I put up is so much better for my family. When I open a jar or take something out of the freezer that I put up I don't have to worry about preservatives or any other chemicals they use to mass produce food. I know where it come from, I know its healthy.
What are the biggest changes you see in Appalachia compared to when you were a child?
I think our schools have a lot to do with the speed at which we're loosing our heritage. They frown on the way our children speak and don't encourage children to learn more about our customs and traditions.
Jackie, can you sum up what you think about Appalachia for me?
In one word it means home to me. Although I've lived in different places none felt like home except here in the mountains. The good Lord knew what he was doing when he created the Appalachian Mountains. I think this is the way he meant for us to live. I don't like to go out of the Mountains even on vacation.
I hope you enjoyed this Mountain Folk Interview with Jackie Cole. She has an amazing family and you'll be hearing more about them in the future.
Leave a comment and I'll make sure Jackie reads it.
Tipper