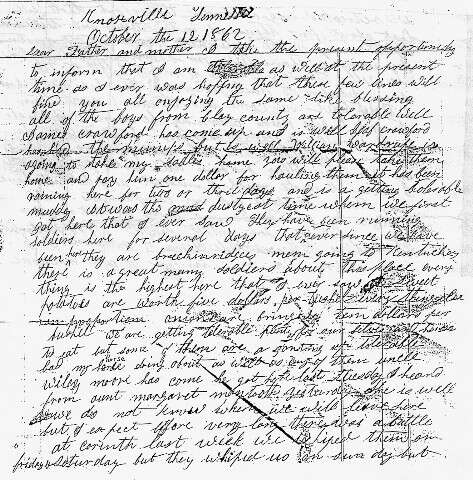 In this third letter of the packet-Penland writes of the actual fighting for the first time. As he writes-you can catch a glimpse of the difference between the North and South's weaponry. He is impressed by the Yankees' firearm power.
Mount Taylor, Carter County Tennessee Jan the 3rd 1863
Dear Father and Mother
I now take the present opportunity to write you a few lines  I am well at this time   hoping that these few lines will find you and all the family and friends enjoying the same blessing   I am as hearty as you ever saw me   I would have wrote you before this time but I wrote you one and had to go out to meet the Yankees and did not have to mail it     the Yankees were within one mile of us and said to be in force and there was but few of us   Col Folk could not muster more than one hundred and fifty men in all at this place   there was a dispatch come to us last tuesday that the enemy were advancing on the bridge at Zollicofffer and for us to go as soon as possible as we saddled and loaded our bagage and started late in the evening and got four of five miles from camp and heard that the forces at Zollicoffer were whipped and all killed and taken prisoners and were advancing and we turned back and went to a better position to fight and formed line of battle and stayed there until midnight and then we went about six miles and camped until midnight and then we went about six miles and camped and throughed out pickets until morning and then we heard that there was a crowd of what we call tories in the crabb orchard that was a going to cutt us off if the Yankees whipped us and we had to retreat and we went up into that country and found none off until we started back to our former camp and as we came on down we were fired on in two different places out of the laurel   two of our men were wounded but none killed    we took six or eight prisoners and wounded men of them that had a gun and was in the woods near the south   it was such a rough country that we could not get after them for the rocks and brush   I expect that there was near fifty or sixty guns fixed at us that day and but two touched    there was two men of Browns company that were left sick on the road and they started to come to the battalian and they were fired on by five guns but were not touched a  single time   we got back to camp last friday and I started to write saturday and sunday and was detailed before I had got half of a letter wrote to go about on scout   the Yankees have burnt two bridges and taken four companies of Loves regiment prisoners these force were sixteen hundred men   they have left this part of the country the Major Mcdowell surrendered without the firing of a gun but Colonel Love give them a fight at Carter Depot   there was five or six of his men wounded and one killed there were two of the Yankees killed and two wounded    they were the best armed that I ever heard of in my life   had Colts rifles that shot five or six times and two naval pistols a piece that shot six times   also there were several of our men runaway a few days ago and they will face tolerable tolerable rough if the get them    you wrote to me to try to get A E Pendergrass off if I could he runaway when had been in camp only one week   I think that it was a very little trick of them   their officers were all kind to them and they were getting plenty to eat   I fear that deserters will be the ruin of our country if they keep a deserting and going to that country there will be an army sent to that country   it will be eat up and will be starved out   I think that is the only danger of our country being ate up or coming to want   a deserter ought not to be countence   in any shape nor form whatever    James Crawford is on the mend and is a great deal better than he was when I wrote to you before   he as been very bad   M A Martin had not mended much the last account that I had of him    I have not heard from him since last thursday he was a little on the mend then   R V Alexander is well at this time   tell Mr. Sherman that John is well and is gone to Knoxville at this time with some prisoners   I am well this morning and have plenty to do lately   I have wrote every day for eight days and part of the night in fact, nearly every night more or less in that time   I would be glad to be at home but I do not know when I can get a furlough I do not think there will be any furloughing soon in this battalion   when we left camp we left all our our sick at camp and they left and we think that they went home   we do not know what has become of   write soon and give me the news write to Johnson Depot Carter County Tennessee
so no more at present but remains your son as ever W C Penland
I wonder if the writing he spoke of-was letters home or if he kept a journal too?
Hope you'll leave me a comment with your thoughts on the letter.
Tipper