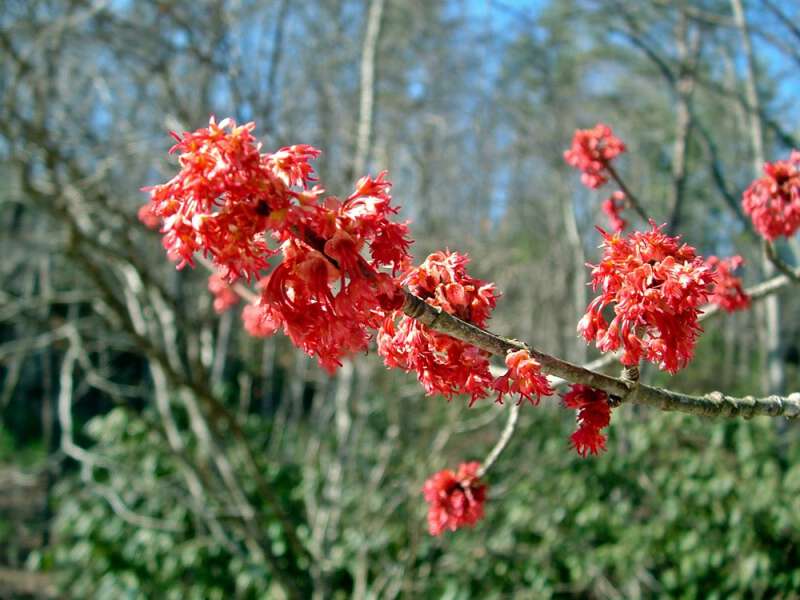 Over the past few weeks I've been watching the Maple trees slowly turn red. Funny how some trees start out their Spring dressed in vibrant colors, changing into their summer green, and returning to their splash of color for fall. Almost makes me think trees have a celebration for their annual rebirth and another when the work is over and it's time to take a winter's rest.
There's a small set of woods in one of the pastures I pass on my last 1/4 of a mile home. The group of trees draws your eye because over the years cattle have kept their undersides all trimmed to the same height.
There are several Maples in the pasture and I've gauged their progress from the first hint of red to the full blown color they have now. Actually to be honest I made myself keep track of their progress.
One evening as I was coming home, I looked over at the little set of woods and noticed the first blush of color. My mind begin telling me Spring is just around the corner—you better get yourself in gear, start worrying about the garden, get some cleaning done around the house, make sure the girls school year is going to end well, pull out all the summer clothes and put up the winter clothes. In other words, my first reaction of wonder over the blush of Spring turned into a to-do-list that made me feel crazy. Who knows why, but I suddenly thought I'm not going to worry about all that stuff it will get done somehow it always does, but I am going to look at those trees every day and I am going to enjoy them putting on their Spring clothes like I have never done before. And you know what? I have.
Tipper