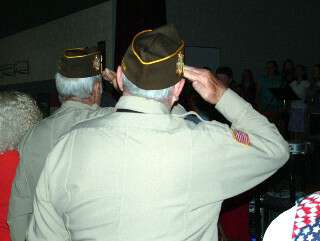 I usually attend a Veterans Day program each year. I'm ashamed to say-I never went to one until the girls started school.
Over the years of attending school programs-I've come to think of Veterans Day as being almost synonymous with white haired old men standing around, shaking each others hands, and usually looking slightly uncomfortable with all the attention they are receiving on this special day.
At  most programs they show photos of the Veterans from the days they served for us. Looking at the old pictures and then looking into the faces of the heroes today is a fascinating thing indeed. Usually at least one of the Veterans will tease Pap and ask him what happened to that young handsome Marine up there on the screen.
Veterans Day is a day set aside to honor all who have served in the Armed Forces-both living and deceased.
Veterans Day is a federal holiday and always falls on Nov 11th.
In 1919 President Woodrow Wilson declared Nov 11th Armistice day to commemorate the end of WWI-which officially took place at the 11th hour on the 11th day of the 11th month.
In 1954 the United States Congress voted to change the name to Veterans Day.
This years Veterans Day seems especially poignant to me-I know it's because of our recent visit to The Moving Wall. As I attend the Veteran's Day program later today at school-I'm trying to remind myself-to not only be thankful for the white haired men who line the school halls-but to also say a prayer of safety and thanks for each man and woman who are serving today.
Tipper