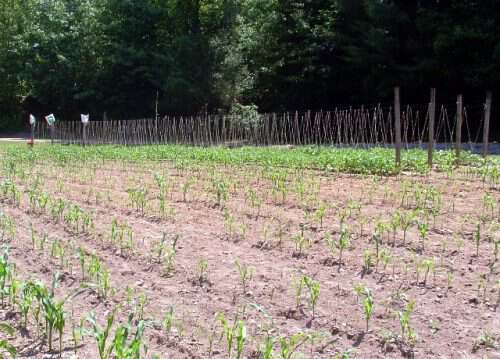 If I had to pick one thing Pap grows better than anyone else it'd be greenbeans. White-half-runners is the choice bean for Pap and Granny and they grow tons of them every summer. Granny cans well over a 100 quarts every year and they eat them all.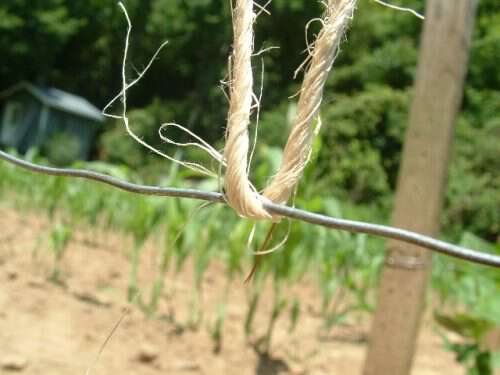 I took this photo a few weeks ago, you can see the method Pap uses to string up his beans. I think the method is the secret to why his beans always do so well.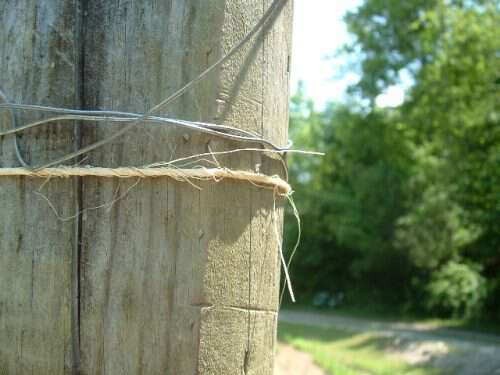 On each end of every bean row Pap places a pole in the ground. His are about 8ft long-you could use a log from the woods, a metal stake, or what ever you have on hand. Pap's may seem like over kill, but his bean rows are about 75 feet long so he needs something sturdy.
Pap's poles are buried about 18 inches deep in the ground.
Between each set of posts Pap runs 2 lengths of tie wire. One runs about 6 to 8 inches off the ground between 2 poles. The other about 4 to 5 feet above the first wire. If your poles/rows are a lot smaller you may need to adjust the placement of the wire.
Pap then takes sea grass (twine would work too) and ties it to one of the posts; then starting on the bottom wire he loops the string around the bottom wire-and over the top wire. He continues looping the twine under and over the wires forming Ws down the length of the wires till he reaches the other pole at the end of the row-he then ties the twine off to that pole. The Ws need to be loose if you make them too tight once the greenbeans start running they'll pull the whole thing together in a big bunch. Pap adds a few extra poles for support down the length of each row. He cuts a small sapling from the near by woods and ties it to the top and bottom wire not worrying too much about burying it in the ground.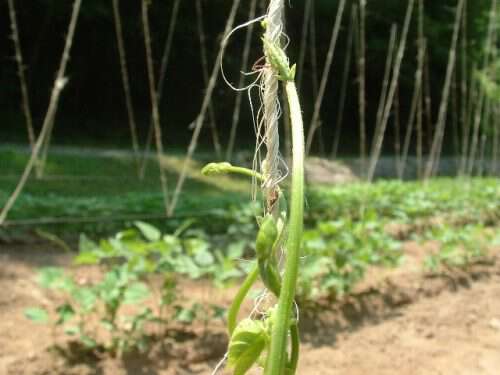 As the beans began to run you can help them find the twine, but it's really not necessary most of the time they'll find it themselves.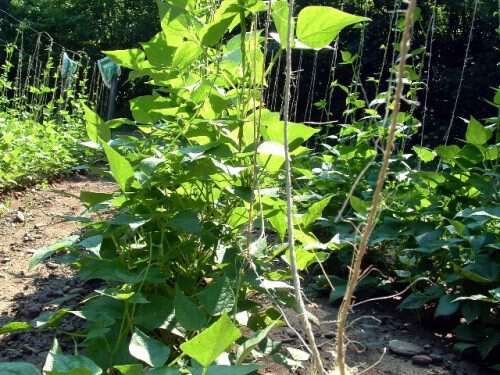 Before you know it the beans will climb to the top wire and by the end of the summer you'll be walking between 2 lush walls of green when you go to the garden for a mess of fresh greenbeans.
Pap says when he was a boy they grew beans in the corn, letting the vines run up the stalks, but Granny likes greenbeans so much that method didn't make enough to please her.
Tipper