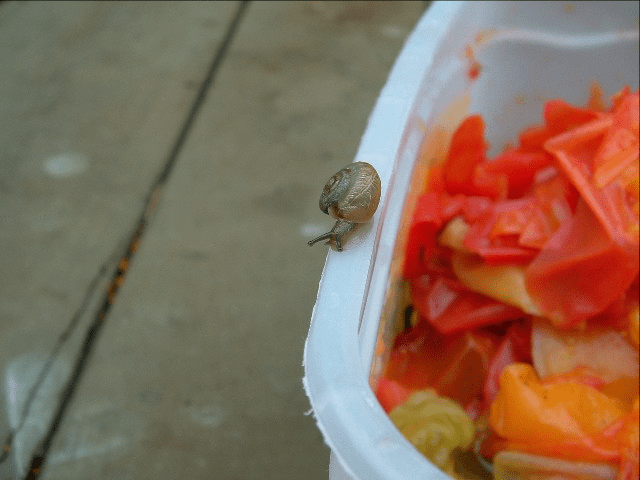 One day last week I was canning tomatoes. Somehow a snail hitched a ride in my bucket while I was gathering them from the garden.
I noticed the little guy as I was peeling my 2nd pot of hot tomatoes. He had climbed up to the lip of an old icecream bucket I used to discard my peelings in.
Instead of returning him to the great outdoors I thought I'd let him keep me company while I worked-silly I know.
While I continued my canning the snail began to nudge my brain. Wasn't there a nursery rhyme about snails?
I have a great love for nursery rhymes or anything with the eloquent style of language used in days gone by. The other day I Am Bound For The Promised Land was on the radio and I told Chatter "Listen to those words don't you wish you could go around talking like that?" I'm not sure she saw my point.
After I sent Mr. Snail back to his friends I did some looking and found the nursery rhyme that was hiding in the shadows of my mind:
Lazy old snail Come out of your shell; To slumber at night is all very well; But now the sun shines and your face I would see; Come your shutters unclose or a sluggard you will be!
Maybe when I wake the girls for school in the morning I'll swing open their door and recite the rhyme. Couldn't hurt could it?
Tipper
Appalachia Through My Eyes – A series of photographs from my life in Southern Appalachia.