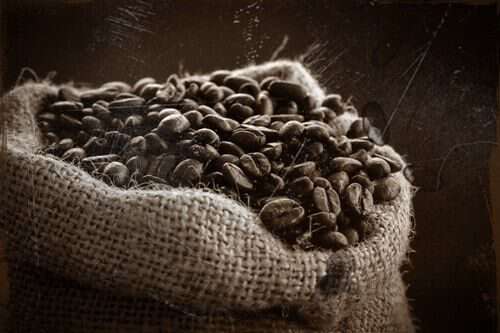 The 1974 Winter Edition of the Foxfire Magazine contains a compilation of newspaper articles written by Harvey Miller. At the time of the magazine's publication Miller's weekly column had been around for sixty years and was till being published in the Tri-County News located in Spruce Pine, North Carolina.
1953
The Rev. and Mrs. J. H. Arrowood, an elderly Pigeon Roost couple, are probably the only family in the Carolina mountain country which will still buy roasted coffee beans and grind their own coffee. The Arrowoods grind their own Coffee as they use it on an old-time coffee mill. They claim the flavor is much better when its is fresh ground.
A peck size, hand-made split basket has been used in the family home of Harvey J. Miller for about fifty years to carry eggs to the country store. Miller says the basket was made by an uncle, Monroe Miller, who had a reputation as a basket maker. The rugged construction of the basket and the fine handiwork illustrates Miller's skill. The basket has taken on a rich coloring like the close-grained bak of a growing tree. The handle of the basket is polished as smooth as though it had been carefully sandpapered and then hand-rubbed. It is made of white oak wood.
Pigeon Roost farmers report that pole cats damaged meadow land during the dry weather. The little fur bearing animals root so many holes in the ground searching for worms and bugs that they destroy, the growing grass. Hunters say pole cats have increased in numbers. This is because their pelts bring little money on the market and because they have to be shipped by express.
12/10/53
1954
The small trees known locally in the Pigeon Roost section as "bead-bush" blooms in the late fall. It is said the tree is called "bead bush," the presence of the seed pods which resembles beads in appearance gave it that name. The trees have a number of other names such as "wych-hazel" or "witch-hazel," "snaping hazel," more appropriate of them all, "winterbloom." The forked twigs of the "bead-bush" trees are sometimes used as divining rods in efforts to locate buried treasure and underground water. The dried green leaves of "bead-bush" are sold on the local herb market.
12/16/54
1963
If we have snow on the ground Christmas day, the mountain people say it is a good sign that it will be a good crop year the next following season.
The majority of the farmers here have sold their tobacco crops and some of them met with some great difficulty in getting their tobacco dried sufficiently. So on the warehouse floors and at the market sales, their tobacco was marked wet, which pulled the price of it down considerable.
Deer hunting and squirrel hunting is now over for this year. Several hunters report that it has been a very good hunting season for them.
So with the coming of Christmas and the New Year, I'm sure we all have many things to be thankful for. This writer wishes you  all a Merry Christmas and a Happy New Year.
12/25/63
—-
I hope you enjoyed the peek into Pigeon Roost via Mr. Miller. It's funny, I used to work with an Arrowood and he was totally crazy over coffee and did indeed grind his own coffee beans 🙂
Jump over to the Foxfire website and poke around. They are still publishing the magazine and those wonderful Foxfire Books too.
Tipper
p.s. Here's the round up of the remaining Thankful November giveaway winners:
*The winner of the used "Foxfire 2" book is David and Carolyn Anderson who said: "Love the Fox Fire Books."
Since David and Carolyn are Brasstownians, I'll make sure they get their copy.
*The winner of the used book "Snowbird Gravy and Dishpan Pie" is Sherry Whitaker who said: "I just love old stuff and old talk and everything you share on this quaint blog. I could just hug you, Tipper. I would love the book too!"
Sherry please email your mailing address to me at [email protected] and I'll get the book to you!
*The winner of  "Tales of Whitetails – Archibald Rutledge's Great Deer-Hunting Stories" and "Remembering the Greats: Profiles of Turkey Hunting's Old Masters." is Carol Harrison who said: "The men in my family would all appreciate reading books on hunting deer, bear and turkey. I always enjoy your daily posts."
Carol please email your mailing address to me at [email protected] and I'll get the books to you!
*The winners of the used copies of "The Foxfire Book" are AW Griff who said: "I've never heard toddick but have read it somewhere. Tipper, you point out words many of us use and don't know they aren't used everywhere. No wonder when we travel out of state people want to know where we are from. A friend's family were recently in southern AL. and a southern lady wanted to know where they lived in northern AL. They are from e.ky. Trifling is a word I use but more apt to say nocount." AND Tom Deep who said: "Interesting set of words Tipper."
AW and Tom please email your mailing address to me at [email protected] and I'll get the books to you!
*The winner of the used book "Rough Weather Makes Good Timber" is Jeanie who said: "North Carolina is replete with interesting stories and folklore. As a relatively new Carolinian (just 8.5 years), I soak up all of that. I know I'd love reading the book."
Jeanie please email your mailing address to me at [email protected] and I'll get the book to you!
Subscribe for FREE and get a daily dose of Appalachia in your inbox