Today's guestpost was written by Garland Davis.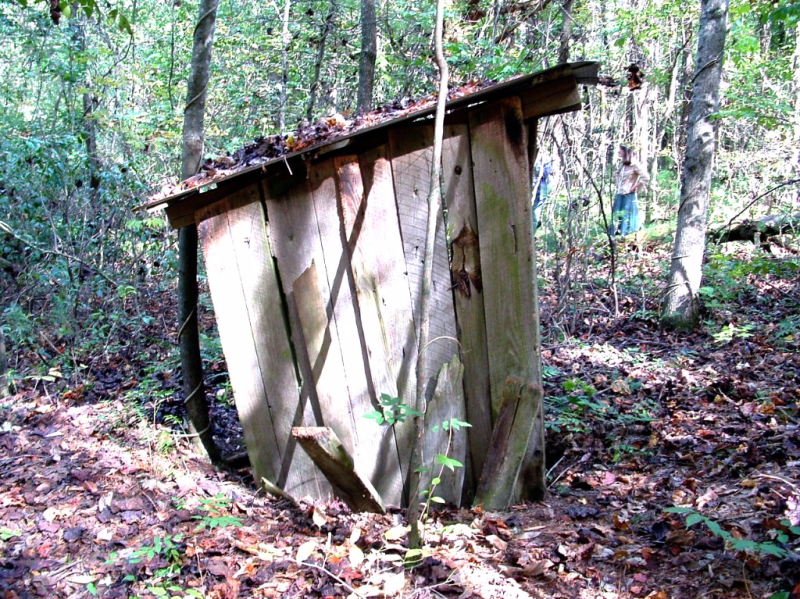 OUTHOUSES by: Garland Davis
Every house outside the city had one. You know, the outhouse, the privy, the little house away from the house, the shed house, or just the toilet. The first indoor toilet that I ever saw was at Walkertown Elementary School. The first place that I ever lived with indoor toilets was the barracks at the Naval Recruit Training Center, San Diego, California.
There was only one house in our neighborhood that had an indoor toilet. They also had an outhouse. No one was permitted to use the indoor facilities unless it was dark or the weather was bad. This was done to prevent filling the septic tank.
Shed houses came in different styles. I remember an out house near Vienna Elementary School that was built and painted to resemble the main house. Most toilets were built for use by one person at a time. However, some people built two or more 'holers'. A gas station in Walkertown a four holer. I cannot envision anyone other than four giggling little boys who would use it.
There was usually a box of newspaper, corn shucks, or a Sear's catalog made available to those who needed them.
When Harry Truman left Kansas City, Missouri in 1935 to become a U.S. Senator his house still had an outdoor privy. Indoor plumbing was not installed until he returned to the house in 1953. Truman was famous for rising early and taking a walk around Washington, often eluding his Secret Service protection.
Dave Gardiner, a southern comedian from the late fifties and early sixties maintained that Harry was just maintaining the custom of getting up in the morning and walking to it away from his living quarters. Gardiner said that it was 'Yankee technology' that brought it into the house to start with.
—————–
I hope you enjoyed Garland's post as much as I did! It reminded me of 2 things: this song and this article I recently read. The song is a funny one Pap and Paul used to sing about the little brown building aka the outhouse. The article is about the differences between today's high tech bathrooms and the outhouses of yesteryear.
Tipper