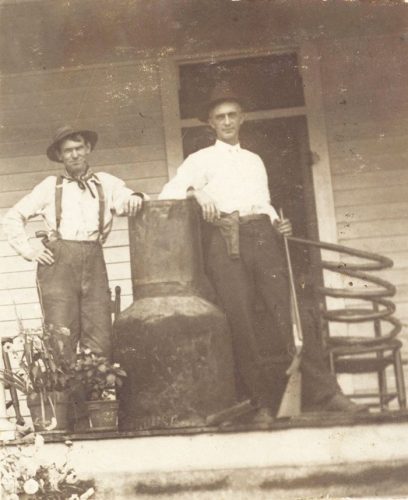 Charlie Beck and Hol Rose
Photo used with the permission of Hunter Library Special Collections:
https://www.wcu.edu/hunter-library/find/special-and-digital-collections.aspx
On July 18, at 1 pm in the conference room of United Community Bank in Bryson City, NC (145 Slope Street), Friends of the Bryson City Cemetery (FBCC) will have a program to discuss the life and death of U.S. Prohibition Agent James Holland "Hol" Rose, who is buried in the Bryson City Cemetery.
With the possible exception of the formation of the Great Smoky Mountains National Park, no circumstance in Swain County in the first half of the 20th century received broader exposure than events related to the death of Rose at the hand of J.E. "Babe" Burnett. Rose died on October 25, 1920 from a shotgun blast to his chest on upper Brush Creek, near the Burnett barn. Burnett fled the scene, though wounded in the leg from either Rose or Charlie Beck, who was assisting Rose.
After successfully eluding pursuers by crossing the ridge to Lakey Creek and wading through that stream to confound bloodhounds put on his trail, Burnett hid out for several months, initially near the home of Frank and Etta Browning. Etta Browning's mother was a first cousin to Babe. There were reports that he was sighted near Spokane, Washington a month later; that proved untrue. He finally turned himself in to the county sheriff almost seven months later, on May 15, 1921.
Dozens of newspapers, from Washington, DC to Tampa, Florida and Ogden, Utah reported on the death of Rose and the trials of Burnett.
The review of the life and death of Hol Rose will include Rose's extended family, one of whom was the famous blockader and backwoodsman, Quill Rose – Hol's uncle. Babe Burnett and his family, along with developments connected with the trials and strong local sympathy for Burnett will also be part of the discussion. That includes the strange marriage of Babe Burnett's son Verlin to Hol Rose's daughter, Ima – who met during Babe's first trial. Descendants of both Hol Rose and Babe Burnett plan to attend and participate in the discussion, bringing a personal touch to the dialogue. Gary Reece, grandson of the Brownings, will recall their role in Babe's flight and ultimate surrender.
This, like all FBCC meetings, is open to the public, and visitors are welcome.
—-
A big thank you to Don Casada for sharing this press release about the event with us!
Tipper
p.s. You can catch The Pressley Girls over the next few weeks at the following places:
July 14, 2019 @ 2:00 p.m. Festival on the Square – Hayesville NC
July 19, [email protected] 7:00 p.m. Historic Union County Courthouse – Blairsville GA
July 27, 2019 @ 8:00 p.m. Vogel State Park Blairsville – GA
August 3, 2019 @ 8:00 p.m. Mountain Dance and Folk Festival – Asheville NC
August 17, 2019 @ 2:10 p.m. Swain County Agriculture Fair – Bryson City NC
Subscribe for FREE and get a daily dose of Appalachia in your inbox