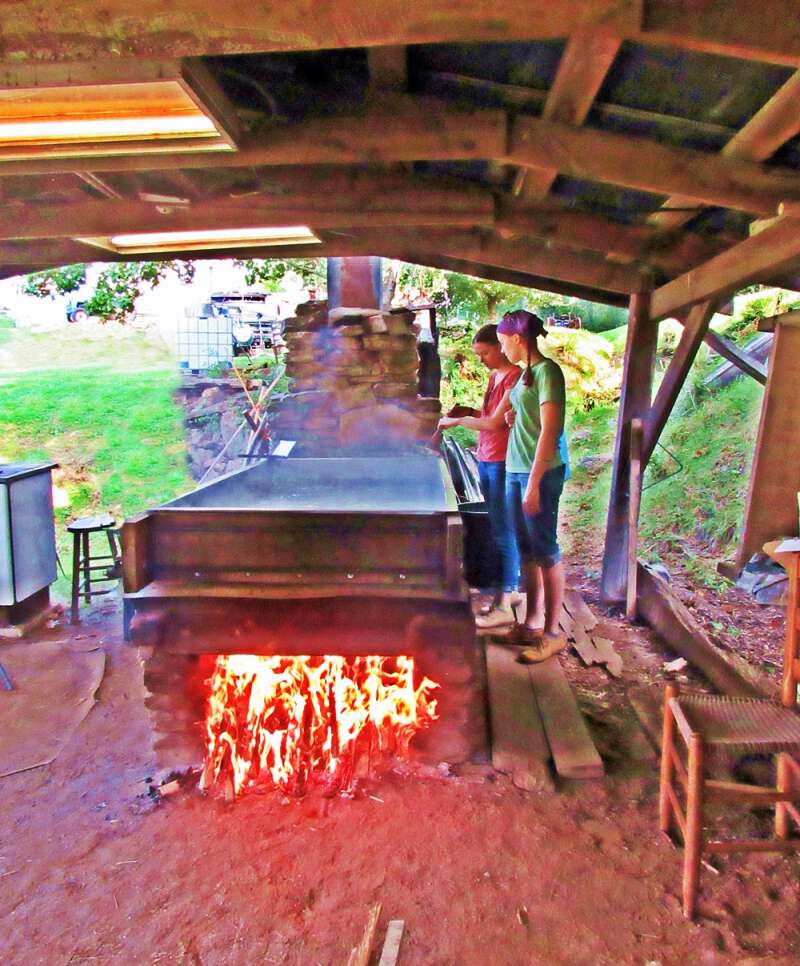 Molasses making in Haywood County NC
molasses boiling, molasses making, molasses stir off noun A social work activity, sometimes lasting all day, at which the juice of sorghum cane is squeezed and slowly boiled, producing a thick syrup that became a principal sweetener for traditional mountain food. The syrup was sometimes fashioned into candy, esp by young couples, by pulling stretches or "ropes" of it until they cooled into sticks, and eaten. 1922 Tenn Civil War Ques 18 [School] amed to run 3 mos but stoped through fodder pulling and molasses making. 1939 Campbell Play-Party 18 Clearings, log-rollings, house-raisings, corn-shuckings, bean stringings, apple peelings, 'lasses stir-offs, and quiltings, though said to be not as common as they once were, still survive. 1945 O'Dell Old Mills 4 Molasses making were gala occasions. Neighbors often helped with the tedious task. After all was finished, the last run was allowed to boil until it was ready for candy. While it cooled, all hands were washed in the nearby stream, greased thoroughly, and then each Jack chose his Jill for the candy-pulling. 1966 Frome Strangers 240 He remembered how the farmers never hired hands for wheat threshing, but would help each other; how the boys and girls shucked corn together and had a time telling tales and singing, as they did at spelling bees and "'lasses boilings." 1982 Maples Memories 12 I still got to see the "lassie making" though. We kids would be on our way from school, and Uncle Burt Ogle would be making molasses. We would see the old mule going round and round, grinding out the juice of the sugar cane, as one of the men would feed the mill.
Dictionary of Smoky Mountain English
————–
It's the time of the year for molasses making. Pap always called molasses sorghum syrup or just plain syrup so that's what I think of it as. Pap's father, my Papaw Wade, was known for his sorghum syrup making skills. Pap told me stories about Papaw Wade going around the territory to help others with their syrup after he had finished his own.
After I was married and started growing a garden I told Pap I wanted to grow cane and that he could teach me to make syrup. I still remember the way he laughed as he said "Why Tipper you ain't go nowhere to grow cane. It takes a whole lot to make syrup and you can't grow it on the the side of the mountain.
Tipper