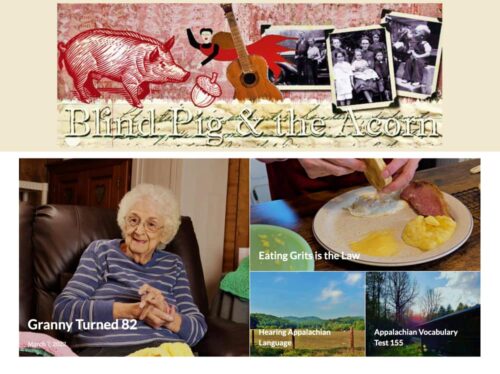 Granny shares her birthday with Blind Pig and The Acorn. This blog turned 14 on Sunday.
Fourteen years is almost unheard of in the blogosphere. In other words, Blind Pig and The Acorn is ancient.
How have I continued to blog for longer than most folks?
From the beginning I had a strong sense about what I wanted to do—which in a nutshell was to celebrate Appalachia. There are a myriad of things to celebrate about the rich culture of Appalachia so I never run out of things to talk about and thankfully my passion for the region I call home has only grown over the years.
In addition to my strong desire to pump out content about the Appalachian Mountains I've had the best blog readers in the world! Some of you have been with me from the beginning, some of you are new to Blind Pig and The Acorn, and some of the readers are now gone from this earth—but all readers encourage me to continue. And the comments readers leave add wisdom and knowledge to my writings.
My passion and the wonderful readers are the reason the blog has lasted so long.
Back in 2008 when I first started the blog I had no idea that it would reach all the way around the world, nor that it would enrich and change my life in the way that it has.
I started my endeavor of celebrating Appalachia on one of the first computers we ever had in our spare guest room, also known as the dangerous room 🙂
The room was our catch all, my office, and a guest room when we had company. Once the girls grew up and wanted their own rooms we gave the room to Chatter and I moved my office to a cramped space in my bedroom. When I get a little sad about Chatter getting married and flying the coop I remind myself how nice its going to be to move back into my old office 🙂
I'm madly in love with Appalachia—the people, music, food, folklore, culture, language, towering mountains and deep dark hollers. And I thank each of you who come sit a spell with me to celebrate and preserve it all.
Tipper
Subscribe for FREE and get a daily dose of Appalachia in your inbox