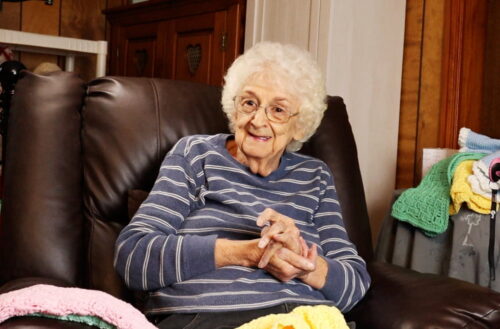 Yesterday was Granny's birthday. She was 82 years young. For as long as I can remember Granny has made her own birthday cake. Most years she made a vanilla cake with icing in different colors which she used to write Happy Birthday to herself.
In more recent years she switched to making the dessert she has become most famous for in our family: Holy Smoke Cake. Everyone loves it, especially Paul and The Deer Hunter. I usually get Granny to make one for The Deer Hunter's birthday every year and she recently made one for Chatter and Austin's wedding shower. There wasn't a piece left by the end of the event.
Granny loves to tell the story of the day she was born. Her mother, Gazzie, told her there was a big snow on the ground. So big that it was even with the porch and had completely covered the steps. Granny's mother had eleven children and Granny was the ninth. So I'm sure a big snow and a baby coming didn't worry Gazzie too much.
Last week I took Granny to town to pick up a few things. She told everyone who spoke to her "If I make it till Sunday I'll be 82 years old!" 🙂
If you'd like to have the recipe for Granny's Holy Smoke Cake go here.
Last night's video: Early Spring Garden Chores & Patch Farming in Appalachia.
Tipper
Subscribe for FREE and get a daily dose of Appalachia in your inbox