Last summer at The John C. Campbell Folk School's Little Middle Folk School Week, Chatter learned how to make Carrot and Parsnip Stew from Stephanie Burnette who taught cooking during the week. When Chatter came home raving about it, I had my doubts. Parsnips and chicken? Well let me tell you, Chatter proved me wrong the stew is very good.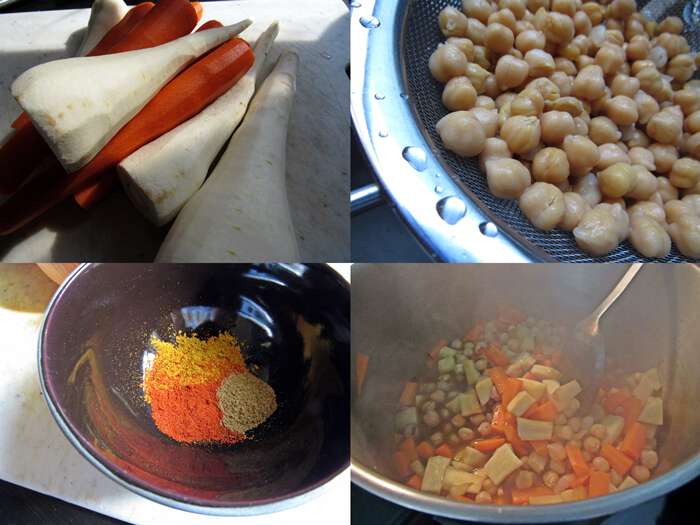 Folk School Camp Carrot & Parsnip Stew by Stephanie Burnette
1 bag carrots
1 bag parsnips
2 boneless chicken breasts
1 can chickpeas (garbanzo beans) drained and rinsed
2 cups warmed beef broth
1/4 teaspoon curry powder
1/4 teaspoon paprika
1/4 teaspoon ground coriander
2 tablespoon butter
2 tablespoon coconut oil
salt and pepper to taste
Peel parsnips and carrots and cut them into 1 inch long sticks (slicing them into circles also works very nicely); keep the 2 separated.
Heat 1 tablespoon coconut oil in a large stock pot or dutch oven. Add 1 tablespoon butter and let it melt.
Add parsnips to the pot and allow them to brown for about 5 minutes.
Add the other tablespoon of butter; add carrots; stir well and allow the carrots and parsnips to cook for about 10 minutes. Stir the pot often to make sure the veggies aren't sticking.
Stir in chickpeas and beef broth. Stir in the spices. Turn pot to low and loosely cover.
In a frying pan heat the other tablespoon of coconut oil and fry chicken breasts until done. Remove chicken from pan and allow to rest for 5 minutes. Cut chicken into bite sized pieces and add to stew along with any drippings that are left in the frying pan.
The stew is very tasty eaten by itself as a one bowl meal. Or you can serve it with bread or crackers.
Print Carrot and Parsnip Stew (right clink to open link and print recipe)
Now I should fess up and tell you I don't think I had ever eaten parsnips before I tasted Chitter's first pot of stew. I guess that was part of my reluctance about the dish in the first place. I have discovered one thing about parsnips over the last year, they may look like carrots but they cost a whole heck of a lot more!
I'm going to try my hand at growing parsnips this year. If you have any tips about growing parsnips, please share them with me.
Tipper