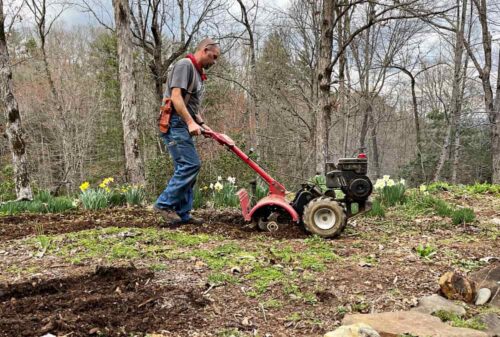 Last growing season we realized our tiller was on its last legs. The Deer Hunter discovered a hole had formed in the drive housing and all the oil had seeped out. The machine was about wore out and I said we should look for another one. Finding one that pleased The Deer Hunter and was sturdy enough to fight our rocky land proved to be a difficult undertaking.
Over the weekend as we were cleaning up the garden areas and preparing for planting The Deer Hunter started worrying about our tiller situation again. I remembered Pap's tiller was sitting in his garage. The Deer Hunter said he thought he'd tried to use it a couple of years back and something was wrong with it, but he decided he'd go take another look.
Before I knew it he had Pap's old tiller in the garden turning up the soil.
We both marveled that the thing cranked after sitting for six years. The tires are dry rotted and it's smoking a little, but other than that the tiller runs fine.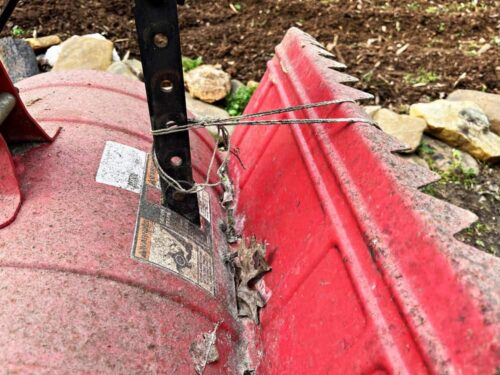 As we stood admiring the old tiller The Deer Hunter pointed out the string Pap used to tie the back guard up so that he could see the tines working and to prevent the guard from dragging the dirt down.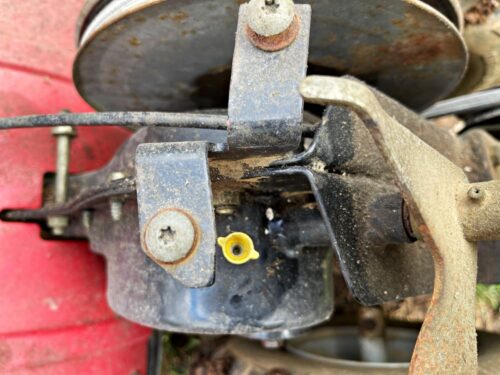 He also pointed out a wire nut saying "I remember Pap got me to drill a hole in the drive housing just before he died so that he could put some gear oil in it. Said a drive housing ought to never be sealed up tight where you couldn't grease it when needed. After adding the grease we used the wire nut as a plug. Pap said that would work just fine."
Last night's video: Corie's Last Hike Before She Leaves Home to Start a New Life.
Tipper
Subscribe for FREE and get a daily dose of Appalachia in your inbox