Today's post was written by Paul.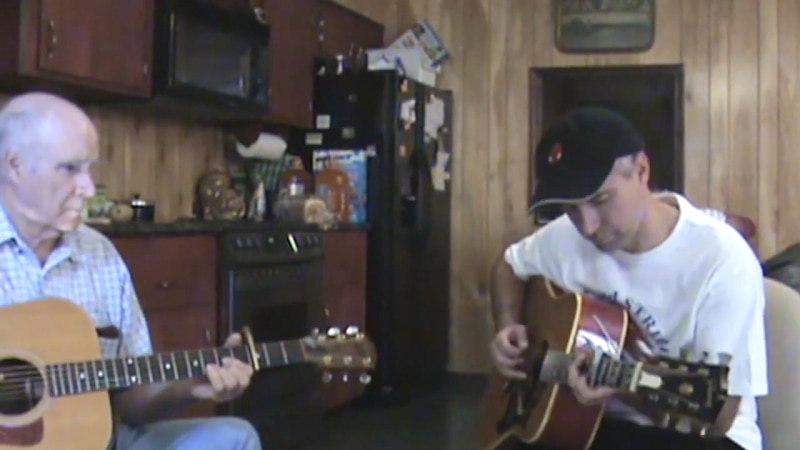 I promised to share one more "found" video of me and Pap singing. Up until I posted the video on our YouTube channel, the video I'm sharing today had only been viewed by Tipper and me.
I also promised to share a video of the very first time that Chatter (aka Corie) played guitar with me and Pap. Although she isn't in frame, this is it.
Early on the DVD where this video came from, I am showing Corie (off screen) how to get the chord of F major; not some fancy position for it, just the basic chord itself. So, she was definitely only beginning. While you can't see Corie in the video, you can spot a cool moment where Pap (who was in happy disbelief that Corie could already keep time with us and go to the correct chords) looks over at her, looks at me, and then gestures with his head toward Corie, as if to ask me, "Are you seeing this!?" (see 1:32​ & 1:40​)
That was a cool moment indeed.
While I was happy to find this video, I also experienced some degree of regret that I didn't bother to tell everyone the chord changes before we started. Pap didn't need me to tell him. He already knew, but everyone else needed to know. I also wish that I had taken time to agree with Pap on what verses we would sing and in what order.
This has been one of my favorite hymns since I was a little boy, but for some reason or other, Pap and I never sang it. It's clear that this is just a wonder-what-that-would-sound-like? moment where we took one half-hearted stab at a song as we were ending our picking session.
Often, we would try something and then forget about it by the next weekend. Still, the harmony is nice in places. I have no idea why I chose to try to play it on the top two strings of the guitar. It should have also been 2-3 frets higher (perhaps G or A) to give Pap room to stretch out his high harmony.
Any way, I hope you enjoy this find. Unfortunately, there probably won't be many (if any) other videos of Pap and I singing together to upload that you haven't already seen.
It's ironic that I'm uploading this song now. Currently, I'm working to record one of Pap's original songs that he wrote back in the 80's called 'What Kind of Friend Has He in You?"
I forgot to add a title screen to the video, but Charles C. Converse composed the melody to this song in 1866, while preacher Joseph M. Scriven wrote the lyrics earlier as a poem in 1855 (according to Wikipedia).
Paul
Blind Pig & The Acorn Music