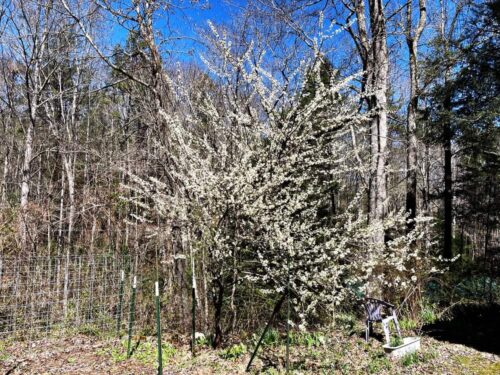 Many years ago Granny planted a plum tree from seed right next to one of her and Pap's little garden patches. It's been the bane of our existence ever since it got to be a good size tree.
Pap tried to get Granny to cut it more than once but she wouldn't even consider the idea 🙂
I remember one year he cut a big limb off the side of it and didn't tell Granny. A few days later she told me she wished The Deer Hunter hadn't cut the limb while he was trimming around the garden. I said "He didn't Pap did!" She said "Well I'm going to get onto him about cutting my tree," but of course it was too late by that point.
Even though it hangs over the beans every year and gets in our way as we till, plant, trellis, and harvest we leave it because it brings Granny such joy. Each spring she tells me to go make a picture of her plum tree because it's the prettiest it's ever been. On a really good year the tree produces about five to ten plums 🙂 Granny cherishes every last one of them.
Last night's video: Dorie Woman of the Mountains 11.
Tipper
Subscribe for FREE and get a daily dose of Appalachia in your inbox