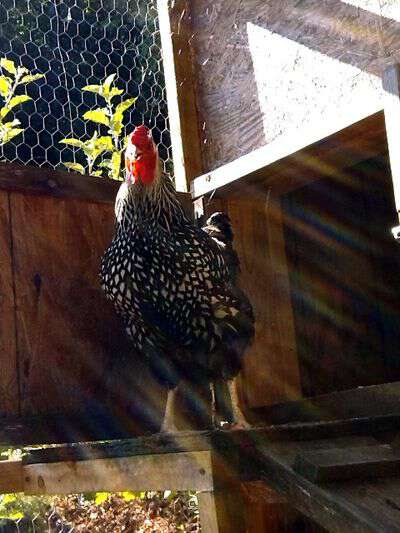 Nesta the hen
The other night Chatter and Chitter came home telling me they learned how to wobble. I said "Please tell me that's something good." Turns out 'wobbling' is a dance. If you've ever seen the electric slide-its similar to that-only worse.
After all the wobbling talk was over-I kept thinking I'd seen the word somewhere else. I finally figured it out-I read about it in my Dictionary of Smoky Mountain English.
chicken wobble noun A party, usually of men, at which stolen chickens are cooked and there is drinking, music making, the telling of tales, and so on. 1971 Costner Song of Life 79-80 Few may have heard of a Chicken Wobble. It is a feast without the dance and is an outdoor affair, ladies barred. The chickens had to come from someone represented there, and they made the rounds choosing them from the different roosts. No one knew just when he was eating his own chicken, as they were stolen very quietly early in the evening…It was shortly after crops and fodder pulling time and we had had very little fun that summer, and some of the men working hard in the lumber camp. This was our first big get-together in many weeks. When I arrived at the place most of the fellows were there. They had a great fire going, the kettle boiling, and three fat hens stretched out on a log, two of them were already unfeathered…Squire Joe, Bill and Hoopie Roe were thrumming and sawing on their instruments, tuning up they said. And Milem Butters, who could sing and dance as well without music as with, was getting in tune also. 1973 GSMNP-4:1:37-38 About evey Saturday night we would have a square dance and a chicken wobble…Most of the times they'd be a bunch of the boys, you know, would go out and steal a chicken or something and bring it in and cook it. 2001 Montgomery Coll. = When I was a child (in the '30s) the men (and sometimes women) thought it was great fun on a Saturday night to steal a chicken or two, go to someones house, cook the bird, and have a party. Any alcohol was consumed out of the presence of the women, however. It was great fun to steal a man's chicken and feed it to him without his knowledge! (Ledford)
[wobble perh from stirring the chicken]
While I ain't into stealing chickens-I think I like the old timey chicken wobble much more than I like the modern day wobble the girls learned.
The dictionary excerpt reminds me of a story one of my friends, Trevis, told me.
Trevis said when he was just a small boy his Granny was his babysitter. After his Papaw left for work in the mornings, he'd walk to the barn with his Granny to feed the chickens and do her other morning chores. Many mornings Papaw's favorite rooster harassed them as they made their way around the barnyard. One morning Granny had enough-when the rooster came harassing she reached down and grabbed his neck and in one swift movement she took him out of this old world. Never one to waste anything-Granny cooked up the rooster for supper. Trevis said it was sometime after supper that his Papaw started missing his rooster-and finally asked his wife if she'd seen him that day. Trevis said he can still see the look on his Papaw's face when his Granny said "Yes I've seen him and so have you. You ate him for supper."
Ever heard of a chicken wobble?
Tipper
*Source: "Southern Appalachian English." Home | Arts & Sciences | University of South Carolina. N.p., n.d. Web. 15 Sept. 2013. <http://artsandsciences.sc.edu/engl/dictionary