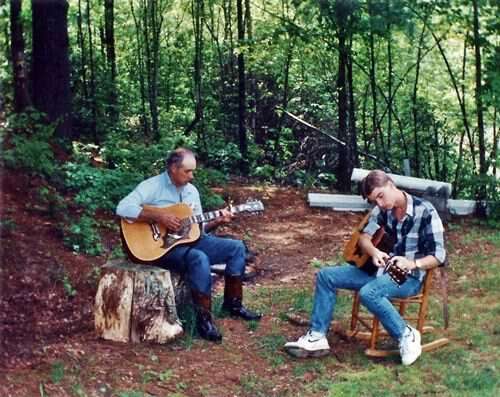 Pap and Paul – Picking on a Sunday evening under the trees
I always enjoyed hearing Pap and Paul's music when I was growing up, well other than when I was trying to watch my favorite tv show and Paul was playing Foggy Mountain Breakdown for the millionth time 🙂
I've always been a lover of sad songs, but a few that Pap and Paul used to do made me get teary-eyed every time.
Way back Pap used to sing a sad song about losing his little pal. Every time he sat on the couch and sang it I ran to my room and squawled because I thought he was singing about losing Paul.
Another song that always made me cry was "Dream of a Miner's Child." I think it tore at my heart because it was about a little girl begging her daddy not to go to work for she dreamed the mine caved in and she could never live without him. That's exactly how I felt about Pap, that I couldn't live without him.
The old miners song is said to have originated in England. Once it was introduced in the US it was adopted by our own mining culture and immediately became a folk song that is still going strong today.
Wayne Erbesen offers this additional information about the song in his book "Rural Roots of Bluegrass."
"With the first recording on October 9, 1925, Vernon Dalhart recorded "Dream of the Miner's Child" nine times! The song may have been inspired by the stories of a small boy who dreamed of a mine explosion. True or not, there was in fact, a major mining accident in South Wales in 1907, where over 100 miners perished. In 1910 these events, inspired Robert Donnelly and Will Geddes to write "Don't Go Down in the Mines, Dad," it was later "recomposed" by the blind Atlanta evangelist, Rev. Andrew Jenkins, in 1925. For a full account of the history of this song see, Archie Green's book, Only a Miner."
I hope you enjoyed the song and I hope you have a great Sunday!
Tipper
Subscribe for FREE and get a daily dose of Appalachia in your inbox