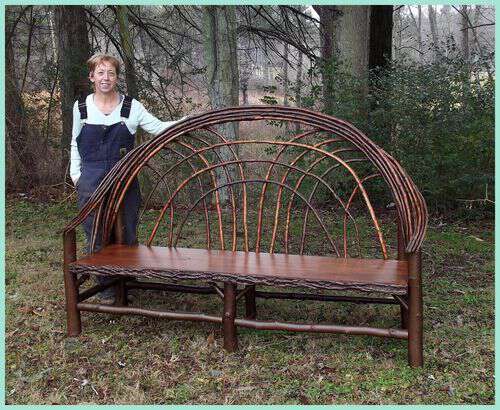 Jo Kilmer – Spirit Tall
Two interesting things happened during the month of July at the Blind Pig House. It all started when the girls did some work for one of our dear friends Jo Kilmer.
Jo is a very talented rustic artist as well as an amazing clogger-the clogging part is how we met her in the first place. She hired the girls to help do some work in her yard and told them upfront "We'll work in the morning while it's cool and then when it gets too hot we'll go inside the studio and create." Who wouldn't want a job like that?
On the hot days of July the girls learned much about jewelry and macrame from Jo.
During that time Chitter also wrote 3 new fiddle tunes! Maybe it was all that creative vibe going on or maybe it was getting to spend quality time with a good friend.
Everyday when I got home from work I'd ask the girls how work was and what sort of 'creative' things they did with Jo that day. I got the feeling they were hiding something from me. Since my birthday was coming up I figured Jo was helping them make me a necklace or a dragon fly.
Skip ahead to my birthday.
I came home from work that afternoon and could not believe what was sitting in my living room…these two chairs!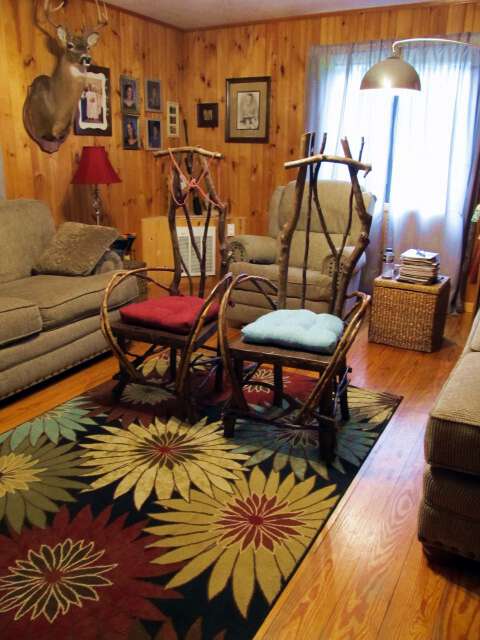 I was so shocked I could barely say anything. Chatter said "Well are you disappointed? Do you like them?" I said "Are you CRAZY I love them! I just can't believe you made them."
The girls said it was only possible with Jo's help and man did they have a new respect for the rustic art Jo makes because it's hard to make.
A few days later we were down at Pap's picking and grinning when Chitter decided the name of one of her new fiddle tunes needed to be Two Old Chairs. I totally agreed.
I hope you enjoyed the tune! If you'd like to know more about Jo and her Rustic Artwork jump over to her website Spirit Tall and poke around. Along with the beautiful furniture and dragon flies she also holds workshops on a regular basis.
Tipper