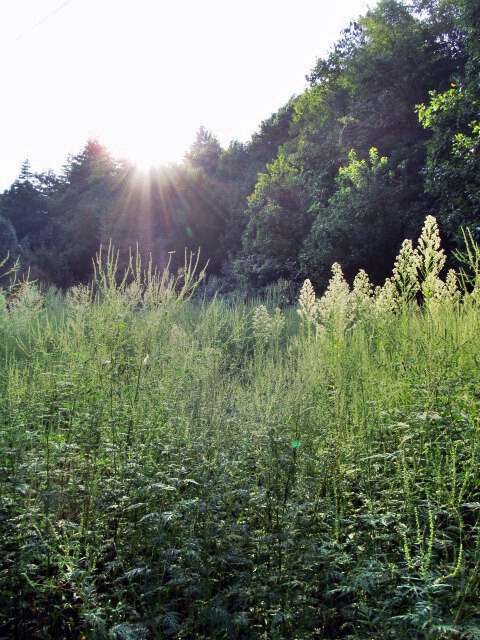 Late yesterday evening Chitter asked me if I'd walk down to Pap's big garden with her. She wanted to look for wild apricots-some folks call them may pops. They typically grow wild along the edges of Pap's cornfield. I told Chitter even though there's no garden this year we'll go look around and see if we can find one.
Neither of us had paid the garden much attention this summer and was surprised to see the weeds had grown taller than either of our heads.
Even before Pap's accident the hard decision to not plant the big garden had been made-at least for The Deer Hunter and me. For the last several years we've used the garden for beans and corn and planted the rest of our garden items closer to our house and Granny and Pap have done the same.
The trees surrounding Pap's big garden have grown till they shade it too much for it to produce as well as it once did. The Deer Hunter is handy with a chainsaw but these trees are so close to the power lines the local EMC would have to cut them and we just never can seem to get around to calling them out to look at the trees. One of those things you mean to do, but don't.
During the aftermath of Pap's accident I counted it a true blessing that the big garden lay fallow with nothing but 2 rows of taters growing in it.
As Chitter and I walked the edges and poked into the weeds on our search she said "Will we plant the big garden next year?" I said "I don't know. I don't know if any of us will want to fool with it and Granny and Pap can't do it anymore for sure." Chitter said "I just know how many times I've helped clean it off in the spring of the year not to mention the planting and the infernal weeding." Letting her words sink deep into my mind I said "Well letting it lay fallow this year will probably be good for the soil. So maybe we can get those trees cut and we'll see about using it."
After Chitter's gentle prodding, my gardening eyes saw the big garden full of new possibilities. More than that, my heart soared to realize any teenage girl who worried about the land lying unused had surely inherited my gardening eyes and the hope of feeding herself and her family with things grown by the work of her hands and the sweat of her brow.
Tipper