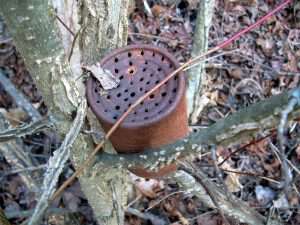 Everyone who guessed Pap used the can for sevin dust was right. Most years we have trouble with bugs eating the beans-not much else just the beans. I don't like to use sevin dust even though I grew up eating from a garden where it was used.
A quick google will turn up all sorts of homemade insecticides:
water mixed with dish detergent
water mixed with pepper flakes or chopped hot peppers
pee-I think I might rather have sevin dust than pee
planting marigolds or nasturtiums around the garden-I always plant nasturiums and marigolds but I can't really tell if they help or not
oily mixture made from dish detergent or peppers
a sprinkle of wheat bran
a sprinkle of tobacco dust-not sure where you'd get that unless you grew tobacco or knew someone who did
a tea made from tobacco and water-most recipes said this type of insecticide should be used sparingly due to the high nicotine content
releasing friendly bug eating bugs in your garden like ladybugs
pick the bugs off by hand and drown in a jug of water-this would take the patience of Job if you had a big garden-but I know folks who do it every year
The only homemade insecticide I've ever used from the list above is the pepper/oil mixture. Maybe my mixture recipe was off, but it didn't work for me. Do you use the old stand by sevin dust or have you found a more natural remedy that works?
Tipper