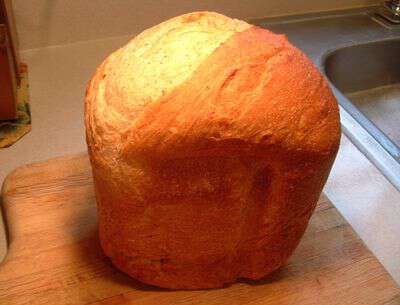 I'm a bread lover! I mean I'm a fool for bread! At most meals, I'd rather have the bread than whatever else is served. I like biscuits, I like cornbread, I like rolls-I like bread! When I try to think of someone else who likes bread as much as I do Miss Cindy immediately comes to mind.
Like me, Miss Cindy likes all kinds of bread especially if you've got some butter to go with it. When The Deer Hunter and I were first married Miss Cindy shared her sourdough starter with me and for a good long while we both made sourdough bread. But somewhere along the way Miss Cindy decided to get a bread machine and give it a try. After she got the hang of using the machine she found us one at a local thrift store and showed us how to use it. The bread machine makes good bread. It came with a cookbook which has recipes ranging from regular sandwich bread to elaborate Danish pastries.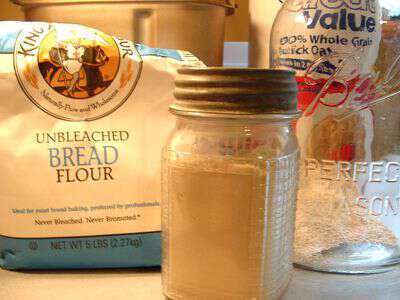 Miss Cindy wanted a basic bread for sandwiches, but one hearty enough to be served with a meal too. When none of the recipes she tried fit that description she made up her own bread recipe.
Her recipe is so good I glued my hand written copy inside the cover of one of my cookbooks for easy access I knew it would be my go to loaf bread recipe.
You need:
3 cups of unbleached bread flour
1/2 cup of whole wheat flour
1 heaping tablespoon of gluten
1/2 cup quick cooking oatmeal
2 teaspoons salt
2 tablespoons butter
2 heaping tablespoons of peach or apple jelly (or 2 heaping tablespoons of sugar if you don't have or don't want to use jelly)
1 1/2 cup water
1 1/2 teaspoon yeast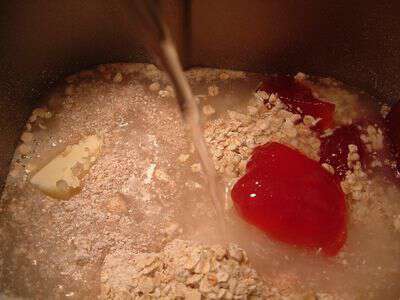 The best thing about using a bread machine is you pour all the ingredients except the yeast in together (the yeast goes in a separate place) turn it on and forget it.
The bread machine Miss Cindy found for us is a Panasonic SD-YS200. Bread machines can be pricey, but by keeping an eye out at thrift stores and yard sales Miss Cindy has managed to nab several for friends and family at a good price.
Once I add the ingredients, I choose the Basic Bread option which takes 4 hours. If I'm in a hurry or just want my bread faster I choose the Rapid Basic Bread option which takes 3 hours.
I've never tried it, but I'm sure Miss Cindy's recipe would work well if you made it without the bread machine and went by a basic sandwich bread's rise and bake times.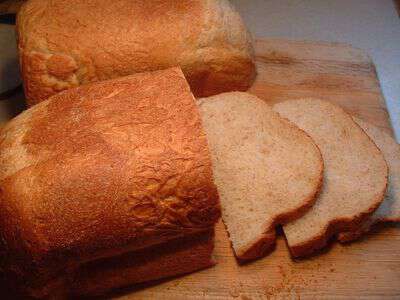 Once the bread is baked and out of the machine, I let it cool slightly and then slice the loaf down the middle long ways-so I end up with 2 smaller loaves.
Things I love about Miss Cindy's recipe:
the addition of oatmeal and wheat flour make it a healthier bread
it gives me an incentive to use up that last spoonful of jelly in the frig
its very versatile-good for making sandwiches, but good with an entire meal too
best of all it tastes so good we usually eat half a loaf with butter as soon as it comes out of the machine
Tipper