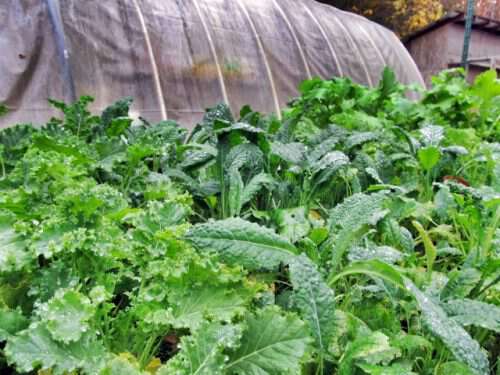 My Sow True Seed Kale is continuing to grow like crazy! I planted Red Russian, Dwarf Siberian, Vates, Dwarf Blue Curled Scotch, and Lacinato. Hard to pick a favorite, but if I had to I'd go with Lacinato. I like the taste and I like how it looks-very pretty.
We've been eating from my kale beds, Miss Cindy has been eating from our kale beds, and I've even fed our hens from our kale beds. We still have plenty! The beds have been such a huge success that I'm positive I'll be planting Kale as part of my fall garden for years to come.
Even with all the eating, I've still been able to put some in the freezer. I'm hoping the kale beds continue through the winter-at least through part of it. I've read about people growing kale farther north who simply dig it out from under the snow to harvest. Surely mine will do pretty good this far south.
Below are 2 recent reports I received from Sow True Seed Deputized Kale Reporters @ Large.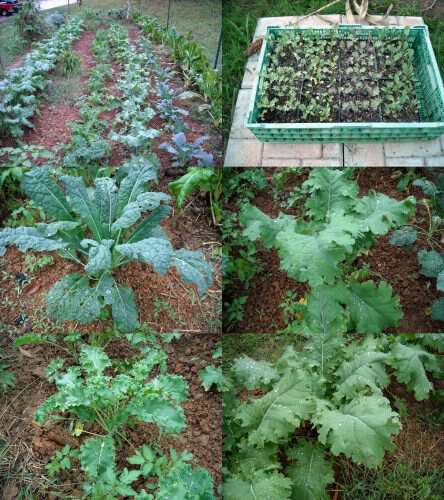 "I've attached pictures of the four rows of Kale I planted. I've numbered the varieties to make it easy to track them. The full view of my garden has Swiss Chard on the right, and kales 1 thru 4 from it to the left.
I haven't tried them yet, but hope to start eating tomorrow. I'll mail the info forms off next week and then give you updates once a month as the plants progress."
Report from Steven – October 10 (Steven grew  Lacinato, Dwarf Blue Curled Scotch, Red Ursa, and White Russian)
————-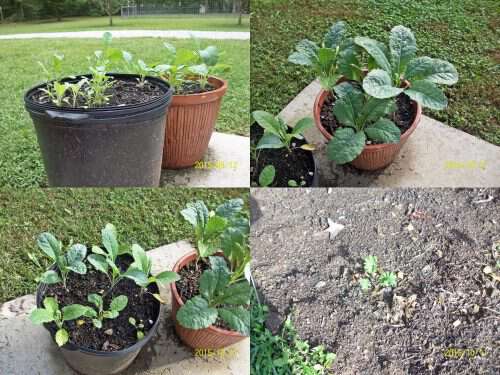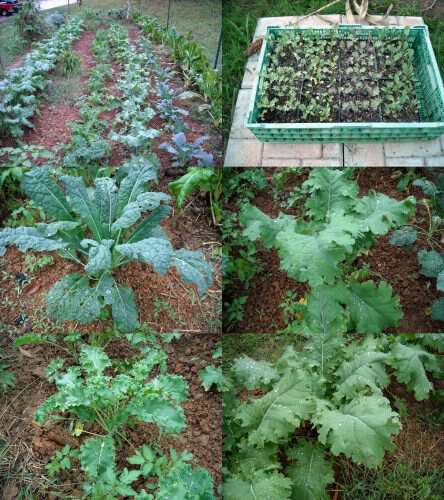 "I am wishing I had amended my raised beds just like my Master Gardener son had told me too. The plants in the raised bed didn't fair well. It is so so very important to make sure the soil you use is ready to nourish the seeds. These seeds performed great and any loss is my fault. I ended up making a compost tea to try to save them. Don't ever make compost tea if you can't stand the stench from the bowels of hell. It worked tho.
The Kale I planted in the pots thrived. They look beautiful and really took off after I thinned them. I used miracle grow potting soil. The pots set on the porch rail are the thinnings from the pots.(Lacinato). I hate seeing things die so I pulled out all the stops on what to plant them in ha ha.
Thank you for letting me participate."
Report from Lorraine October 13 (Lorraine planted White Russian, Dwarf Siberian, Red Russian, and Dwarf Blue Curled Scotch)
————-
"My squash did great but the kale was a flop. First died from the heat. We had an unusual hot spell. Then the next time I planted, it came up quick and the bugs ate it to the ground. Now the ground is starting to freeze so no kale til Spring."
Report from Barbara – November 2
————-
I hope you enjoyed the Kale Reports. Lorraine's comment about the compost tea made me smile-been there done that! Drop back by to see how I've been freezing my Kale…its really a difficult process (not).
Tipper