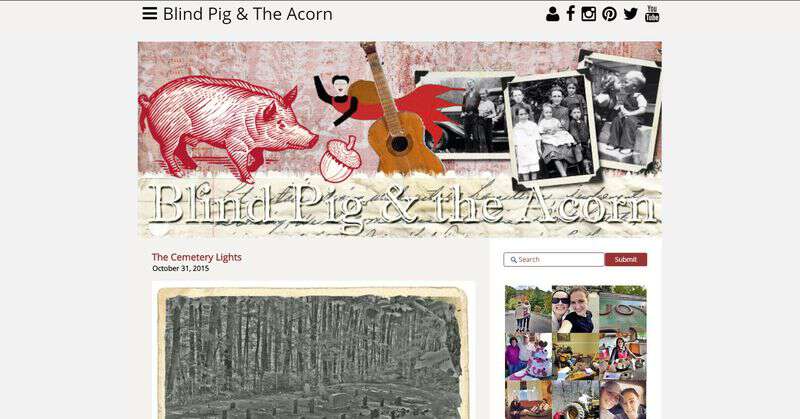 I'm beginning to settle in to the new Blind Pig and The Acorn design and I hope you are too. As I've already mentioned, the reason behind the re-design was to ensure the website was responsive to all computer platforms. So far only 2 readers have encountered issues-at least I hope its only 2!
Earlier this year, Google made some changes that made being responsive a little bit trickier especially for sites as old as this one. In internet years the Blind Pig is considered old. I believe it was time for an update anyway and the responsive issue gave me the incentive to get it done.
I like the more expansive writing area and the more expansive photo area. Ken mentioned he liked the larger comment section-hopefully some of you do too. I tried to simplify things with the new design. I'm not really sure I did, but simplifying was in my mind as I made the changes.
For a long time folks have asked for a cast of characters so they could figure out exactly who everyone I talked about is and how we're all connected to each other. I finally accomplished that by updating the About the Blind Pig and The Acorn page.
I also updated the Picking and Grinnin Music from the Blind Pig Gang page. Back when I first started blogging it was mostly just Pap and Paul making the music, now The Pressley Girls are leading the way and taking the rest of us along with them.
I was worried about changing my Grannyism page because I didn't want to lose all those amazing wonderful comments folks have left about their Grandmothers. I was able to move them over without a hitch. If you've never visited the Grannyism page-its a must read! And while you're there, please leave a comment about your grandmother.
During the overhaul I was able to add the Blind Pig Etsy Shop and Chitter's Stamey Creek Creations Etsy Shop to the end of each post. That will make it easier for the folks who are interested in seeing what's going on in our Etsy Shops. If you haven't browsed the shops in a while, there's a lot of new items in both of them…and you know Christmas is just around the corner!
Tipper