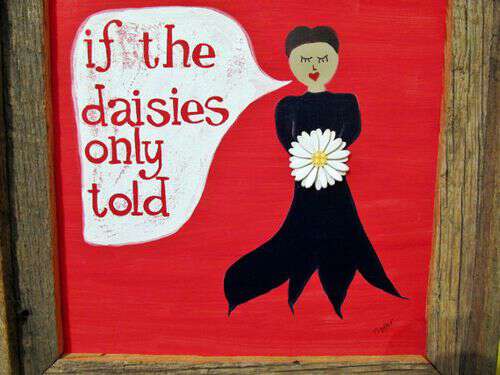 I've always liked to make things-I'm positive I inherited the trait from Granny. These days she sticks to crocheting-but when I was a kid she made everything from snow scenes (including a whole tree one time) to painting Aunt Jemima bottles.
When Chitter and Chatter were little they'd say "Let's create Momma let's create" what they really meant was "let's get some paint, glitter, and glue and destroy your kitchen." It always ended in a major mess-but along with the disaster there was usually an artwork or 2 produced as well.
Most often I like to paint, work with mixed media-or a little bit of both. What gets me most excited-is when I can create something for free-or for almost free. The little piece of artwork in the photo is just such a piece.
Somebody gave me the frame (I'm thinking it was Miss Cindy); I used The Deer Hunter's can of black spray paint to spruce it up; the lime green piece of paper is from my stash of scrap-booking paper; and I used a piece of Granny's scrap yarn to make the hanger. The only part I purchased-was the dog-and he was a steal of a deal.
A few summers ago, we were hitting the yard sales in Black Mountain with Miss Cindy. At one house a very nice man was selling his collection of hat pins. He said he used to work in a truck stop (or maybe that was his wife). He had tons of them-most of which had never been opened. Even better for me and the girls-he was selling them-3 for a quarter. We stocked up on dogs, horses, cowgirls, tobacco pouches, hot-rods, and a few "kiss my grits" for good measure.
So for less than a dime-I created was able to create pieces of folkart.
Tipper
Appalachia Through My Eyes – A series of photographs from my life in Southern Appalachia.