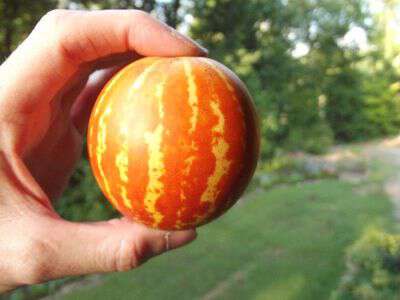 A few months ago, Gary Powell asked me if I had ever seen a plumgranny. I said "not only have I never seen one-I've never even heard of one!" Gary was nice enough to send me 2.
Our mailbox is a ways from the house-so we don't check it unless we're going out or coming in. When Gary's gift arrived-it sat in the mailbox for a day or so. Even though the plumgrannys were sealed in a box-when I opened the mailbox I could smell them-and oh its a good smell-a very good smell.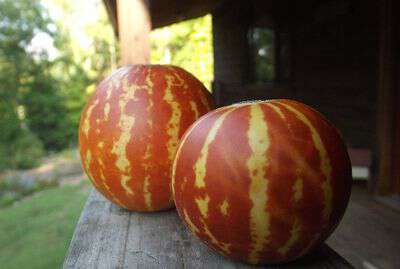 Cucumis melo var. dudaim-better known as Plumgrannys belong to the melon family. As I Googled around I found varying opinions on whether the small melon is edible. However all sources were in agreement-that plumgrannys blow the top off the smell meter-yet barely raise the meter when it comes to taste.
Other common names for plumgrannys: pomegranate, ornamental pomegranate, tigger melon, vegetable peach, apple melon, and perhaps most famously Queen Anne's Pocket Melon (she supposedly carried one in her pocket to ensure she smelled like a Queen).
Plumgrannys grow on a cucumber like vine and will grow well on a trellis or you can simply let the vine roam across the ground where it will.
You can go here: Plumgrannies An Aromatic Plant to read an especially interesting article written by Patsy Watts.
The best thing about Gary's gift-well other than having my kitchen smell heavenly for over a week-is that now I have my own plumgranny seeds-and I can't wait to see how many I can grow next summer.
Ever smelled a plumgranny?
Tipper