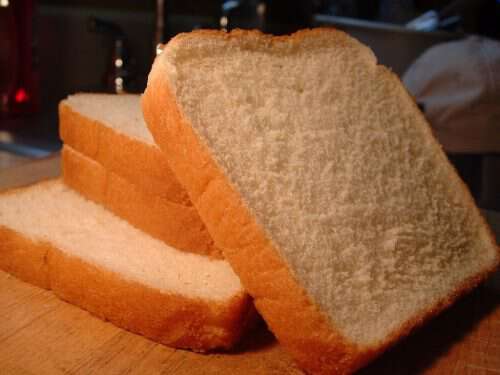 When I ask for make do recipes or memories about eating make do dishes there were more than a few responses that involved light bread. Do you call it light bread, sandwich bread, loaf bread or just bread?
While light bread may not be the most nutritious item on the menu it certainly is cheap. Don's comment yesterday about Sunbeam Bread got me to thinking about different brands of light bread and how each family seemed to have their favorite.
Around here when I was a kid, the two top choices for most folks was Sunbeam or Kern's. I think Pap liked Kern's and Granny liked whatever was cheaper that week. There was a local Kern's Store/Delivery station, and I remember folks trying to break their code of which color twist tie represented the freshest bread.
Since I carry in Granny's groceries every week, I've noticed her and Pap's bread of choice now is Bunny Bread. Another brand I remember from childhood is Wonder Bread, but I don't ever remember eating it.
Now on the subject of making do with light bread:
Norma said: When I read your requests for 'make do suppers', many come to mind. I was born in 1947, so the 50's were my "formative years", as it were, so most of these are from the 50's and 60's. Here's a few family favorites:

My father loved to have cold cereal or hot oatmeal and buttered cheese toast on Sunday nights after church. It was a light repast, he called it, after the usual groaning board Sunday dinner.

Amy Phillips said: Spread butter on sliced bread sprinkle with garlic salt, broil for a min or so, garlic bread… CHEAP, CHEAP,CHEAP!!

Vicki Lane

said: When I was in college,  one summer I rented a room from a young couple with four children. The husband was a real estate agent and the mom (not much older than I) stayed home. Things got very close around the end of the month  and when they couldn't afford margarine, they spread their toast with Crisco and salted it.  It wasn't too bad.

Don Casada said: Brother Jim and I are obviously going to have some of the same recollections.  Before I read any of the comments, I was already thinking hamburger meat (with some sausage mixed in) on top of either cornbread or just plain Sunbeam loaf bread.  In those days, Sunbeam bread came from Waldensian Bakeries in Valdese.  It probably has something to do with a boy's appetite, but white bread sure tasted better back then than it does now.

B. Ruth said: I ask my son when he's on his way to pick up the kids at day care, "Whats' for Supper?"…He replies with a laugh…"Looks like white bread and potted meat tonight!"….He's kidding of course, meaning money's tight! He's heard my tales of potted meat n' white bread sandwiches. LOL Many a time when I was growing up we had canned Deviled Ham (or potted meat) and scrambled egg sandwiches on white bread.. either for lunch or supper! LOL  No Mayonnaise either..if moistened it was always a salad dressing product…ewwww! Wieners sliced in half length ways…fried in a pan till dark. One half weiner was put on one slice of white bread with mustard. As a special splurge of happiness Mom would buy one large bottle 15 cents of soda. She gave us a small glass of Strawberry or Cherry soda filled with (aluminum tray) large ice cubes and on the side those little hot dog shaped cheese Tid-Bit crackers…what a treat of a meal in the summer…LOL I wonder if they still make those???

Tipper said: I can't find the comment, but someone mentioned mayonnaise sandwiches. Until I read that comment I had forgotten about eating mayo sandwiches at Mamaw's house. I remember standing in the kitchen with a cousin who was eating one and he fixed me one too. I don't remember if we ate the sandwich because there was nothing else or because he liked it.
Here at the Blind Pig house we use light bread for:
quick and cheap supper of scrambled egg sandwiches
cheese toast (chitter and chatter are made of cheese toast-or they should as much as they eat it)
like Amy-I've used it for garlic bread
buttered toast for breakfast
sugar toast or cinnamon toast (when I'm sick I always want cinnamon toast and chocolate milk because that's what Granny fixed for me when I was sick as a child)
to sop up pork-n-beans
chatter takes a bologna sandwich for her lunch-every day of the world
and of course for pb and j sandwiches or just jelly for me

I found a neat video of 4 old Kern's Bread commercials on youtube-you can go here to see them too. After I watched them I was reminded I had a favorite Kern's Man myself. You can see him in the photo above. He's in the brown shirt and pants and his name is Buster Laney. That's Pap in the red. What are they all doing? Building our house. Pap and Buster are kneeling where my kitchen sink is today.
Got any other make do ideas for light bread? Do you call it light bread? What's your favorite brand?
Tipper