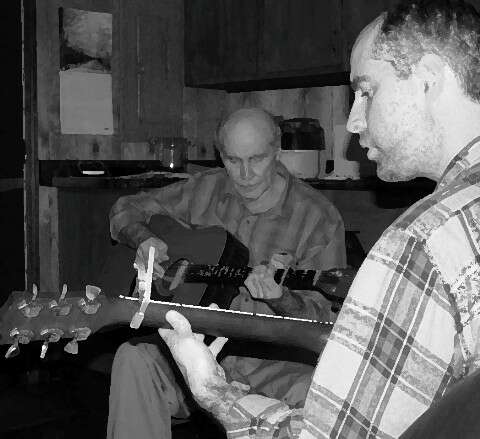 It's been months since I had a Pickin & Grinnin In The Kitchen Spot. The spots got put on the back burner as over the course of last summer-leading into the fall we were enjoying the musical posts from the Spotlight On Music In Appalachia.
For today's Pickin & Grinnin In The Kitchen Spot-I have an old song for you-Don't Laugh. It's a toe tapping number that moves right along-and Paul and Pap's harmony is perfect. The title is ironic to me due to a behind the scenes story Paul told me about the song. The Louvin Brothers had a hit with the song during the late 1950s. Most of the songs recorded by The Louvins Brothers were written by them-but not this one.
Rebe & Rabe another popular duet style group also hailed from Alabama-like The Louvins. Paul read the following in a book about The Louvins-he has 2 but thinks the story might have been in the book In Close Harmony: The Story of The Louvin Brothers written by Charles Wolfe.
Charlie said him and Ira (his brother) would put out a new song they'd written-and by 12:00 that day Rebe & Rabe would have it down pat and be singing it in the next town-drawing in a crowd. Charlie said then him and Ira would go to a venue where Rebe & Rabe had performed recently-and folks would accuse them of stealing songs from Rebe & Rabe-when they were acutally The Louvin Brother's songs. It happened so often that The Louvins began to get a little irritated.
Charlie and Ira had the chance to hear Don't Laugh-a song Rebe & Rabe were singing-and decided to be sneaky and give the other duo a taste of their own medicine. The Louvins recorded Don't Laugh in 1957.
One other humorous story about the song: To say we are fans of The Louvin Brothers is an understatement-we adore their music-they are our heroes. Of course Pap has been a number one fan of theirs since he was young-much longer than Paul or me. One day Paul and Pap were discussing the song Don't Laugh-and Pap said he just knew they wrote the song. When Paul finally proved to him that they didn't-Pap said with great disappointment "Well it looks like they could've if they'd tried."
Did you tap your toes?
Drop back by tomorrow for more about making do recipes.
Tipper