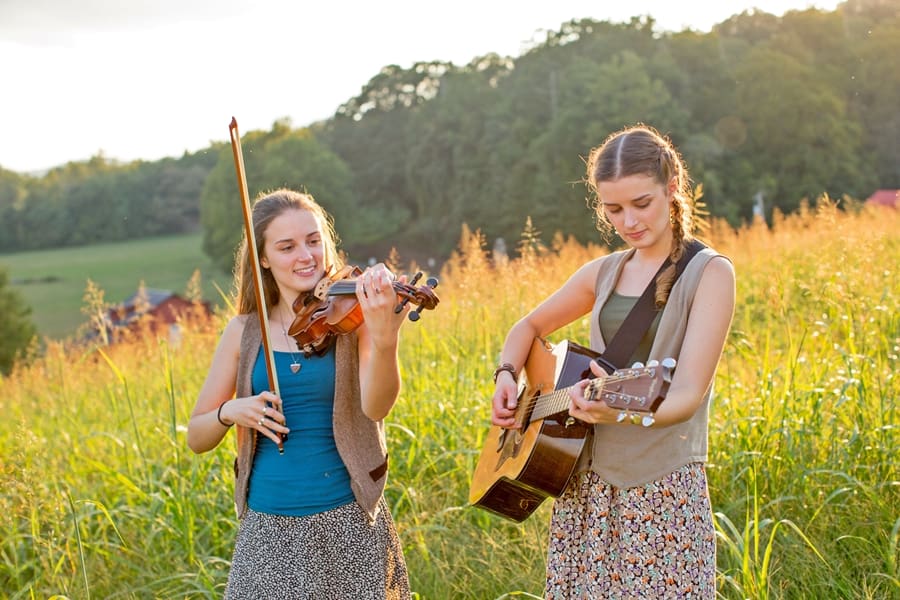 The girls learned the old-time fiddle tune "Hollow Poplar" during a class they took at John C. Campbell Folk. It's a catchy little tune. I figured it was old and a quick google told me I was right.
Source: Arthur Smith (1898-1971, Humphreys County, east Tennessee)Discography: Smithsonian Folkways CD FW02379, "Look! Who's Here:Old Timers of the Grand Ole Opry" (1964)Transcription: Transcribed by Andrew Kuntz
HOLLOW POPLAR. AKA – "Hollow Poplar Log." AKA and see "Old Hollow Poplar." Old-Time, Bluegrass; Breakdown. USA, Nebraska, Missouri, Tenn. G Major. Standard tuning (fiddle). AABB. Popularized by Tennessee's Fiddlin' Arthur Smith. Earnest Smith, the grandson of the famous Tennessee fiddler, told Susan Songer (1997) that this tune was his father's favorite and that it was the first tune he played on the Grand Old Opry (WSM radio). Although Smith had played the tune since the 1930's, he never recorded it until he made his 'comeback' with the McGee Brothers in the late 1950's. It may have been picked up by Midwest fiddlers from Smith's radio broadcasts, or may have been independently in circulation in the region. Related tunes are "Forks of Sandy (1)" or "Three Forks Sandy (1)," especially the fine strain. Drew Beisswenger (2008) points to similarities of the 'B' part of "Hollow Poplar" and the 'A' part of the "Green Corn" family of tunes.
—-
The neat thing about the text from Traditional Tune Archive is the mention of Susan Songer. She was one of the instructors in the class where the girls learned the song 🙂
Tipper
Subscribe for FREE and get a daily dose of Appalachia in your inbox