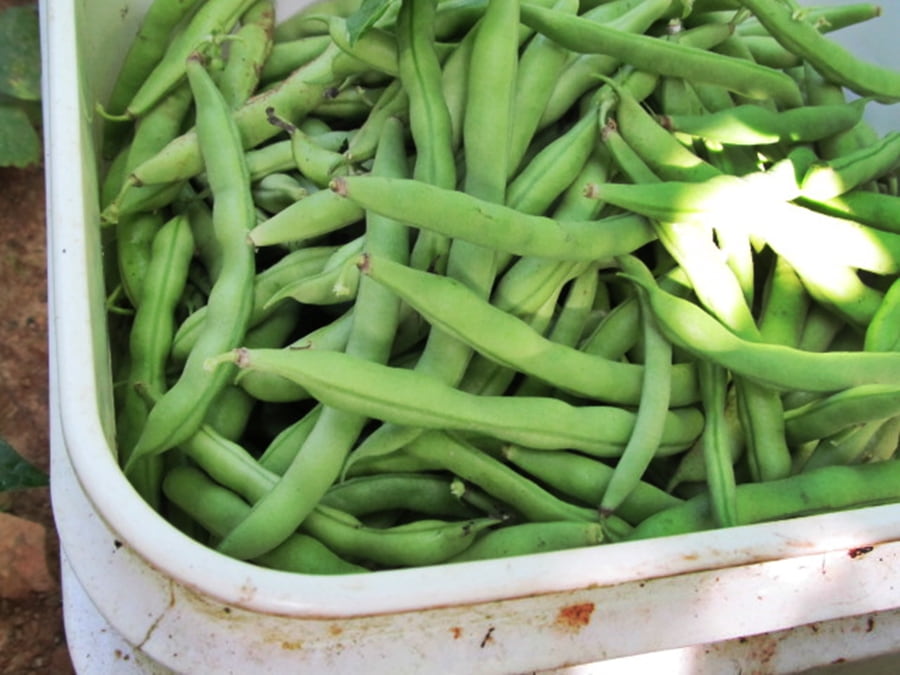 The Deer Hunter and I have been knee deep in green beans 🙂
Green beans play a huge role in the food scene of Appalachia. Most folks have their favorite go to varieties which they plant year after year. Often families save the seed and grow the same green bean their great great grandparents grew, which is especially cool if you ask me.
When I was growing up the choice bean for Pap and Granny's garden were white half-runners.
White half-runners are beans that have runners which grow from between three and ten feet, and sometimes they grow to even greater lengths. Giving white half-runners something to climb on is a must with the prolific growth of the plants. Some folks create elaborate trellis systems for the beans. Others stretch a combination of wire and string along the row for the beans to climb on. White half-runners are very popular throughout the Southern Appalachian Mountain region. You can follow this link to see how Pap strung his green beans, we do ours the same way.
The Deer Hunter and I grow a combination of white-half runners and greasy back beans.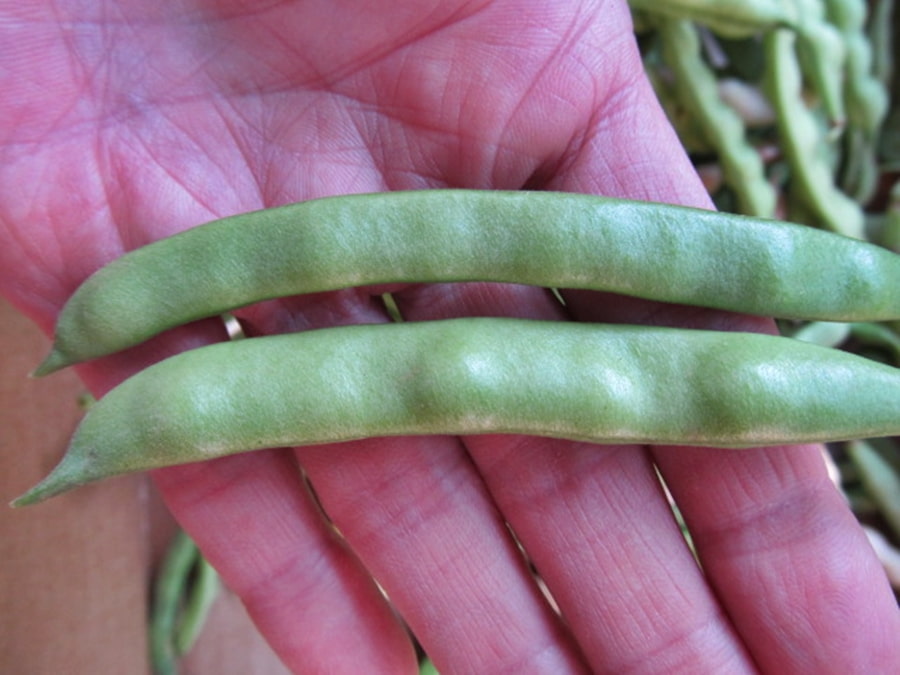 Greasy back green beans are also a climbing bean and although they typically don't reach the growth span of white half-runners they do need something to grow on. The unusual name of the bean comes from the shiny sheen found on the outer layer of the green bean.
Both varieties of green beans are typically cooked and preserved in the same manner. Additionally, both varieties of green beans I mentioned need to be strung before eating.
The most common way of cooking green beans in Appalachia is to stew them in a pot of water with seasoning. Most folks use a piece of ham, bacon, or streaked-meat for seasoning along with salt and pepper to taste. A small amount of olive oil or vegetable oil can be used in place of meat. Beans are slow simmered until the desired tenderness is reached.
Green beans can also be steamed, sautéed, or roasted in a variety of ways with or without other vegetables.
We can our excess green beans by using a pressure canner. Green beans can also be frozen for future use.
Yet another way of preserving green beans is to dry them.
Leather britches is the term for dried green beans in my area of Appalachia. They're called shucky beans in other areas of Appalachia. The method of drying varies from family to family.
Beans are strung with needle and thread and hung in a dry area until the beans themselves are dried. Once the beans are dried some folks remove them from the string and store in bags or even in the freezer. Others leave the green beans dried on the string until they are ready to be cooked.
Cooking leather britches is a bit more trouble than cooking fresh green beans. The dried beans must be washed and then soaked in water until they are reconstituted a bit. The water is discarded, and then the beans are cooked in seasoned water much like fresh green beans, although leather britches take more time to cook. The texture of leather britches is quite different from fresh green beans and they have a distinct flavor as well.
Tipper
Subscribe for FREE and get a daily dose of Appalachia in your inbox